Ohanaeze Mourns As Nigeria's legal titan, Ben Nwabueze, Dies At 92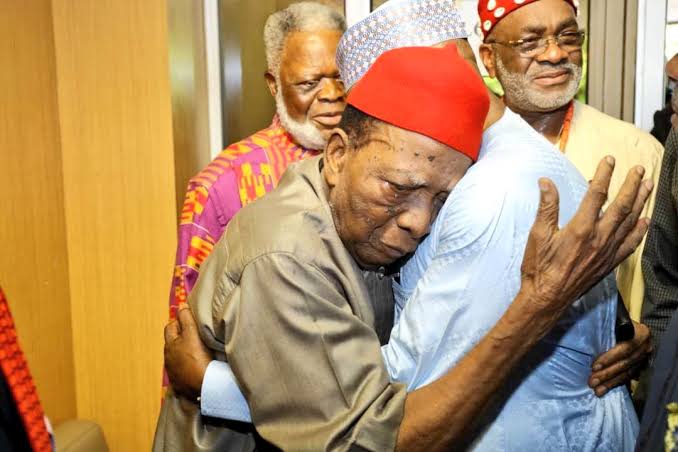 The Ohanaeze Ndigbo Worldwide has received with shock the devastating news of the passing on of one of the foremost quintessential Igbo Titans, an erudite scholar, constitutional lawyer, educationist, former minister of the federal Republic of Nigeria, a senior advocate of Nigeria and the first Secretary General of Ohanaeze Ndigbo Worldwide, Professor Ben Nwabueze.
This is contained in a statement issued by its National Publicity Secretary, Dr. Chiedozie Alex Ogbonnia and made available to newsmen in Enugu on Monday.
According to the statement, "the President General of Ohaneze Ndigbo Worldwide, Chief Engr. Dr. Emmanuel Iwuanyanwu, could not withhold his sorrow especially when the Igbo have lost in a close sequence, the former leaders of Ohanaeze; namely Professor George Obiozor, Professor Joe Irukwu and now Professor Ben Nwabueze.
"Iwuanyanwu reminisced the indefatigable roles Professor Nwabueze played as a patriot in the service of the country. The numerous books and articles by Nwabueze on the constitutionalism stands him out as an intellectual genius. Beyond the services to Nigeria, the Nwabueze scholarship found a profound expression in re-engineering the Igbo into one socio-cultural umbrella body-the Ohanaeze Ndigbo Worldwide. The Igbo Leader notes that Nwabueze was endowed with a magnetic mien, upright transparent disposition, disarming scholarship and an amazing public relation; the sterling qualities that helped to galvanize eminent Igbo to lend their support in nurturing  Ohanaeze Ndigbo to attain an enviable global status.
"Professor Ben Nwabueze worked tirelessly under Chief Jerome Udoji, the first Secretary General of Ohaneze Ndigbo and Dr. Akanu Ibiam as the first President General. In fact, the trio of Ibiam, Udoji and Nwabueze reorganised the Igbo when they needed it most. The erudite jurist also served under the tenure of Justice Eze Ozobu before he yielded to Col. Joe Achuzia as the Secretary General.
"Throughout his invaluable services he displayed an amazing intellect, courage, ingenuity, tenacity, hard work and patriotism; a man who spoke truth to power with lucid erudition and inspiring conviction. His roles in Ohanaeze, depicts him as an exemplary scholar who has not allowed his exploits in the academia to alienate him from his cultural roots.
"He was a rare gem with accomplishments in diverse fields; an erudite scholar with about thirty books, numerous scholarly articles and other publications to his credit. He has made history as the first Nigerian professor to be appointed a Senior Advocate of Nigeria (SAN). He will remain a veritable source of inspiration to the generations yet unborn.
"His academic pursuit started at the CMS Central School Atani, from 1938 – 1945; C.M.S Central School, Onitsha, 1947 – 1950; London School of Economics and Political Science, University of London, 1956 – 1961; School of Oriental and African Studies, University of London, 1961 – 1962; Senior Lecturer at Holborn College of Law, London; Senior Lecturer, University of Nigeria Nsukka; Dean, Faculty of Law, University of Zambia and Director, Law practice Institute, Zambia, 1973 – 1975; Member of Senate of the Universities of Lagos, Dar-es-salaam, Nairobi, Haile Selassie in Ethiopia, Lesotho, Botswana and Swaziland between 1971 – 1978; Minister of Education in Nigeria among several others. He earned Doctor of Laws (LL.D) of the University of London in 1978, based on his three outstanding books – Constitutionalism, Presidentialism, and Judicialism.
"While we prepare for a befitting burial, may the soul of Professor Ben Nwabueze find an eternal repose in the bosom of our Lord.