GREAT MOVE!! Tonto Dikeh Finally Reveals Why She Defected To APC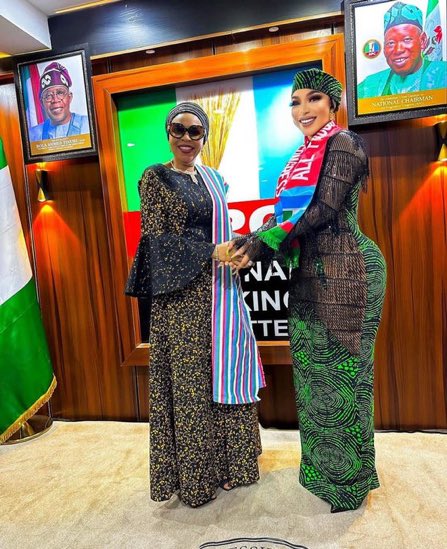 Nollywood actress Tonto Dikeh, the running mate of the Rivers State gubernatorial candidate of the ADC, Tonte Ibraye, in the 2023 general elections, has reveal why she defected to the ruling party APC on Monday.
It is not the first time the actress would publicly deal with the APC.
On 16 March, she withdrew from the race 48 hours before the election and declared her support for the APC governorship candidate Tonye Cole, who lost to PDP's Siminialayi Fubara.
The 38-year-old actress, officially unveiled by the APC national women leader, Mary Alile, and the party's deputy national publicity secretary, Duro Meseko, at the national secretariat in Abuja, says her decision was for the good of Nigerians.
Nonetheless, mixed reactions have trailed her move.
While some Nigerians on X platforms are celebrating the latest member of the ruling party, others seem unconcerned about her entry into APC.
Writing on her Instagram page on Tuesday, the mother-of-one said after she was presented with these facts, goals and vision of the current renewed hope agenda, she was convinced she was making the right decision.
She said,
''I have decided to put emotions aside and continue to work for the greater good of the Nigerian youth, women and the country as I have always done through the Committee of Youth on Mobilization and Sensitization (CYMS) platform in partnership with the Federal Government.
"Facts accompanied by evidence usually bring arguments to an end, which propel drastic decisions and changes for the common good. I have learnt over the years that impactful leadership comes from visionary leaders offering selfless service to humanity, and I am all about the progress of my country, Nigeria, and the youths of this great nation at large."
More promises
She also said she is dedicated to ensuring that all unmet aspirations of Nigerians are met for posterity's sake.
"It's not a win for me alone but a win for our dreams, hopes and struggles to ensure we make our unborn generation proud with good legacies. I am headstrong for you Nigerians, and in due time, you will surely feel the positive impacts of my decision as it will be evident through us all.
"As a patriotic Nigerian, a progressive youth and an advocate of girl-child, I want to reiterate that I believe in the prosperity of Nigeria under the RENEWED HOPE AGENDA OF President Bola Ahmed Tinubu,'' she noted.
Tonto dikeh has always had her eyes on politics. During an interview with the Ovation Magazine publisher, Dele Momodu, in 2020, she announced her intention to go into politics in 2023.
At the time, she said she was already "watching the grounds for the senate."
A year later, she unveiled her politician lover, Prince Kpokpogri, whom she eventually dumped after a whirlwind romance that lasted barely six months.