Anaocha LGA festival ends in grandstyle, see catchy moments and list of all awardee (Video)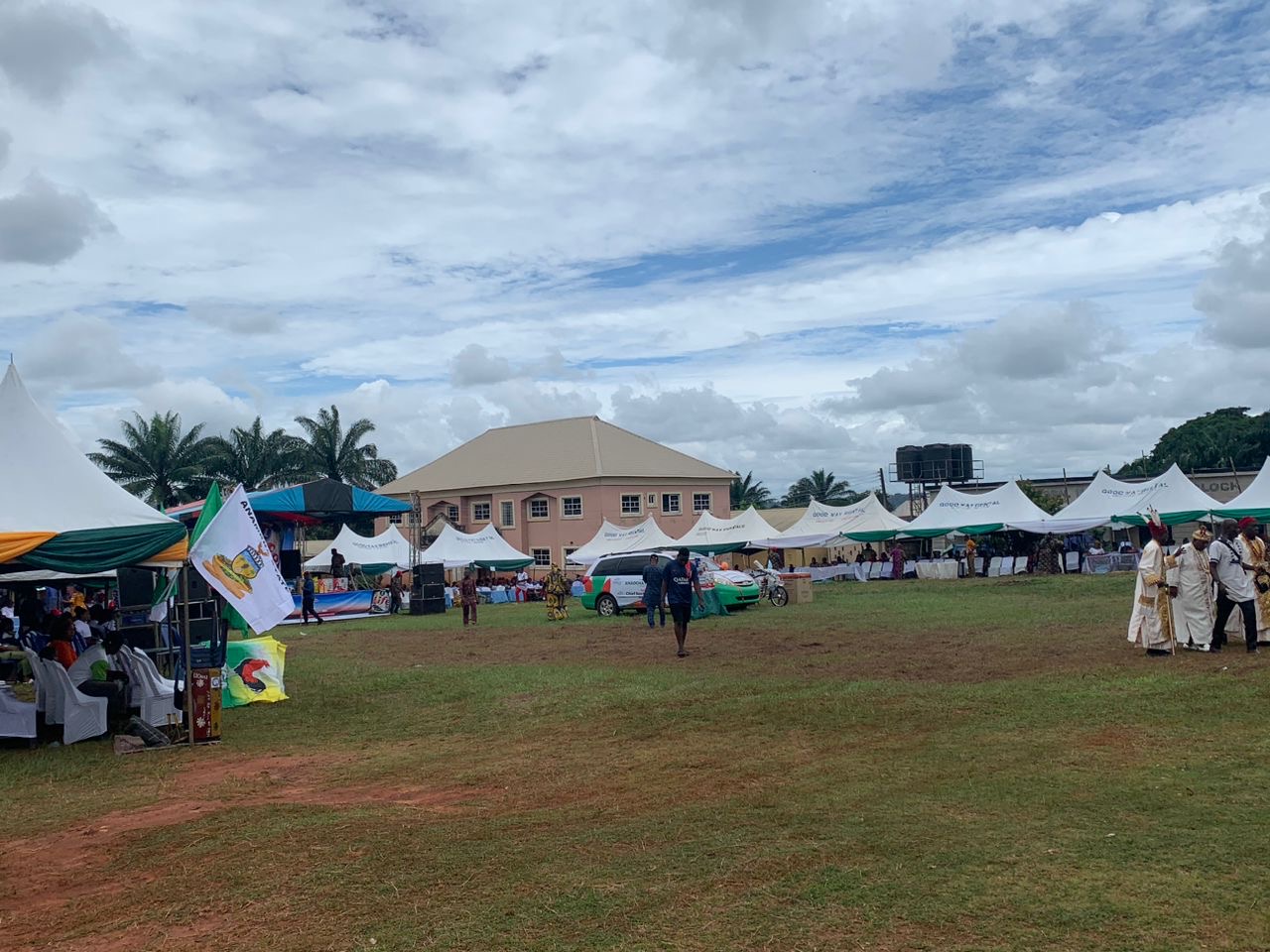 Saturday, 7th October, 2023 was a very remarkable day for all indigenes of anaocha LGA, as they mark their annual Anaocha Festival (ANAFEST).
Anaocha is a local government in Anambra state, and this ANAFEST is an annual event which they use to celebrate the rich culture from the zone and also to thank the God of the land for the bountiful harvest.
Anaocha LGA consists of 10 communities which includes Nri, Adazi-Ani, Adazi-Eni, Adazi-Nnukwu, Obeledu, Ichida, Akwaeze, Agulu, Neni and Aguluzigbo.
The event which was celebrated at the local government secretariat in Neni, was filled to brim with indigenes of anaocha Local Government, friends of anaocha LGA all in attendance.
Miss Anaocha pagentary was organized and winners were rewarded, prizes were also given to participant for yam exhibition competition.
Some of the sons and daughters of Anaocha LGA were also given award and chieftaincy titles for their outstanding contributions to society.
Part of the major highlight of the event was the raffle draw, a lady won a new SIEENA car that was in the raffle ticket.
See list of awardee below, highlight of the event in the video tagged below.
List of Inductee for Anaocha LGA Hall of Fame.
1. Late Chief Sir Anthony Enukeme (Anya Anaocha)
CEO Tonimas Nig. LTD
2. His excellency, Mr. Peter Obi
(Okwute Ndigbo)
Former Executive Governor, Anambra state.
3. Senator Dr. Uche Lilian Ekwunife (Iyom)
Former Senator Federal Republic Government of Nigeria.
4. Col. (RTD) Robert Nnaemeka Akonobi
Former Military Governor, Anambra state.
5. Chief Michael Okpala
(Power Mike)
Former heavyweight champion wrestler
6. Sen. Dr. Chief Victor Umeh
Senator Anambra Central Senatorial district.
7. His lordship, Most Rev Dr Jonas Benson Okoye
Bishop of Nnewi
8. Late Prof. Dora Nkem Akunyili
Former DG NAFDAC/Hon. Minister of Federal Republic
List of Chieftaincy Awardee
1. Chief Emeka Godwin Okoye
MD Palazzo Versace Hotel and Suite Ltd Abuja
As
(Ogbu N'Eche Ndo 1 of Anaocha)
2. Amb. (Dr) Aforjama Emenike Joachim
As
(Pump na-agba agba Anaocha)
3. Chief Tochukwu Okafor
As
(Ochiagha Anaocha)
4. Sir Nelson Chukwuma Obiano
As
Ide ji uno Anaocha
5. Pharm. Christopher Aguolu Ekene
As
Ozoigbondu Anaocha
6. Hon. Tochukwu George Ibekie
As
Ifejimalumba Anaocha
7. Chief Ikechukwu C. Agbogu
As
Odogwu Asaa Anaocha
8. Tonna Anthony Ejiofor, PhD
As
Ofo Anaocha
9. Chief Sunny Anajekwu
(Dike Gburugburu Anaocha)
10. High Chief Mmaduaburochukwu Jude Nwaweluzor – Ezechikwelu
As
Omemyili Anaocha
11. Hon. Engr. Charles Chukwuma Ezeani
As
Nwachinemelu
12. Chief Celestine Ifeatu Okoye
As
(Ife Anaocha)
13. Engr. (Sir) Ugochukwu H. Obegolu KSJI
As
(Ochendo Dika Anaocha)
14. Chief Chukwudi Prince Oli
As
(Ezeafia Anaocha)
15. Barr. Sir Nnaemeka Obiakor
As
(Igwulube Anaocha)
16. High Chief O. C Ifedigbo
As
(Ohaezuo Anaocha)
17. Hon. Nkechi Ogbuefi
As
(Anyanwu Dioramma Anaocha)
18. Ernest Uzuagu
As
(Ejiamatu Anaocha)
19. Chief Mark Okoye
As
(Oke Ebubedike Anaocha)
20. Hon. Dr. Francis Okoye
As
(Ikponze Anaocha)
21. Mr Cosmas Ikegwuonu
22. Hon. Ejike Okechukwu KSJI
As
(Mkpuluoma Fulu na Anaocha)
23. Mr. Eddy Nwaogbo
As
(Ezeogadilimma)
24. Chief Okpala Benson Ikechukwu
As
(Odogwu Chukwubalu 1 of Anaocha)
25. Chief Mrs Princess Ify Ugo-Okoye
As
Adaejiejemba Anaocha
26. Chief Chike Ojideh
As
(Chinyelugo Anaocha)
27. Chief Martins C. Onuorah
As
(Ide Ora Anaocha)
28. Chief Oscar Ukoh
As
(Obataigwe Anaocha)
29. Chief. Dr. Mrs. Ego Obiegbunam
As
(Ugo Anaocha)
30. Chief Kelvin Obiegbunam
As
(Awbgu na Echendo Anaocha)
31. Chief. Mrs. Ego Okafor (Iyom Achoacho)
Distinguished Service Awardee
1. Prof Pita Nwabueze Ejiofor
(Former Vice Chancellor, Nnamdi Azikiwe University, Awka.
2. Chief Tochukwu Ezisi
(Akuenyinwata Egwu na Agulu)
President, National Association of Government approved freight forwarders (NAGAFF)
3. Prof. Charles Okechukwu Esimone
Vice Chancellor, Nnamdi Azikiwe University, Awka.
4. Prof. Josephat Okechukwu Ogbuagu
Former Provost, Federal College of Education (Technical), Umunze
5. Barr. J.P.C Anaetoh (PS)
Ugodinobi
Principal Secretary to the Governor of Anambra state.
6. Chief Bestman P. Anaekwe
Chairman, Nigeria Independent Petroleum Company (NIPCO)
7. Chief Dr. Sir Godwin Ubaka Okeke
CEO G.U.O Transport Company.
8. Chief Vincent Obianodo
(CEO Y.S.G Group)
9. Chief Paulinus Anagboso
(Onowu Agulu)
Former P.G Agulu Progressive Union.
10. Amb. Princess Ugonwaezeh
(Ojiugo)
11. Chief Ndubuisi Damian Okonkwo
12. Chief Sir Gabriel Nnaemeka Anetoh
13. Chief Joseph Chukwuka (Ogene)
14. High Chief Sir Emeka Onwughalu KSJI
(Ichie Ezeochudo)
MD Ezeochudo Investment Ltd.
15. Hon. Barr. Sly Ezeokenwa Jr.
APGA National Chairman.
16. Hon. Barr. Ifeatu Obi-Okoye
Chairman APGA, anambra state.
17. Chief Uzuagu Ifedilichukwu Ernest
18. Chief Sir. Azubuike Okoye KSC.
(Odenigbo Anaocha)
Former member Anambra State House of Assembly
19. Hon. Barr. Anthonia Tabansi-Okoye (Adadiogo N'Nri)
20. Chief Chinedu Mmadubuko
(CEO Chisco Group)
21. Sir Izuchukwu Nwabueze
(Ichie Chinemeze N'Ukpo)
22. Chief Paul Uchenna Muotolum (Omepuluchukwu)