Subsidy Removal: Indigent People In Aku/Ejuona Community Recieve Palliative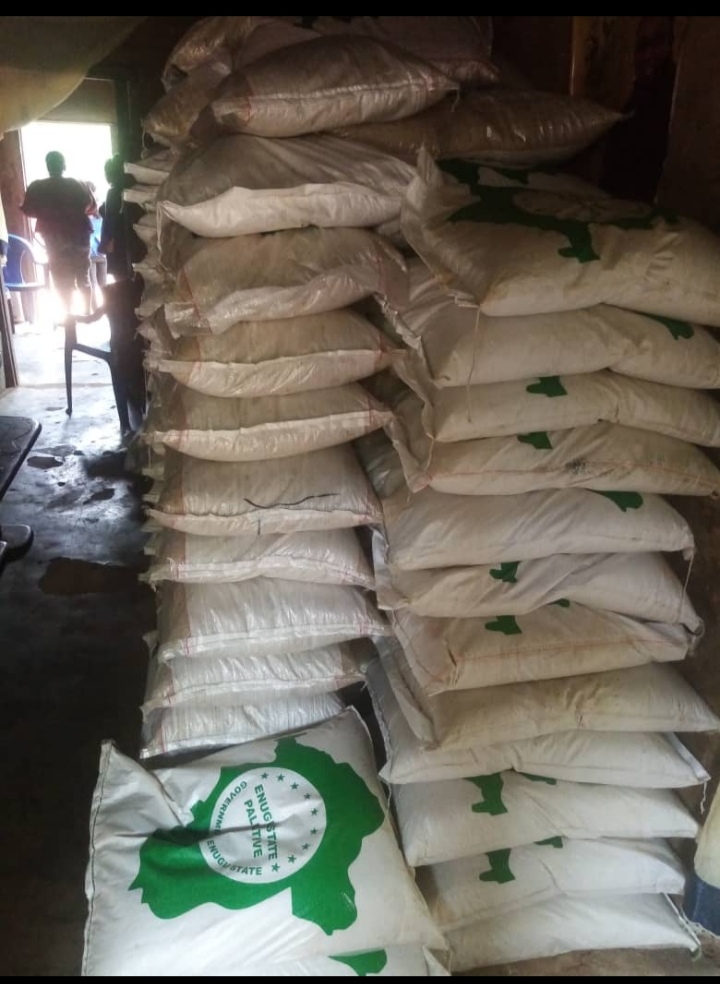 Some indigent residents of Aku Ward IV, Igbo Etiti Local government Area, Enugu state have recieved the first phase of government palliatives.
This is in order to ease the hardship occasioned by the removal of fuel subsidy.
The head of the palliative committee and councillor representing Aku ward IV/Ejuona in Igbo-Etiti legislative council, Hon. Ndidiamaka Okanya, ensured the item got to the right individuals including Persons Living with Disabilities, widows and others who fall into the category of persons earmarked to benefit from the palliatives.
Hon. Okanya said her admistration would continue to enthrone peace, love and unity in the area.
She noted that the welfare of the indegent members of the community would continue to receive priority attention.
Some of the beneficiaries including Elder Ozoede Ezike and Mrs Mary Amukwuru from Ugwunagbor Ezi-Oshigo, Mr Denis Aroke and Ozor Nwakaego both from Ugwunorda, Agala Jiderechukwu and Eche Nneoma from Umuehelete Oshigo commended the template used in the distribution of the relief items among the three sub communities in Aku Ward IV also known as Ejuona Aku.
Other indegens and representatives from different political parties who spoke on behalf of their members said the measure applied by the palliative committee proved non party affair since the palliative was meant to cushion the effect of hardship on the poorest of the poor in the country.
They therefore called on the government to fulfill its promise on other items including cash transfer in line with the palliative measures as their people would be happy to get the full effect of the palliative measure.
Earlier in an address, the president General and member palliative committee Aku ward IV, Chief Tony Ezeoyili assured the people that the committee had adopted a realistic measure to ensure the rice item gets to the target individuals.
The PG attributed the success of the exercise to the team spirit of the committee
According to report of the committee, the lawmaker recieved 197 bags on behalf of the ward, the committee distributes 50 bags each to three sub communities in the area and shared 47 bags to persons living with disabilities.
Members of the committee present during the exercise are the councillor, Hon. Ndidiamaka Okanya, the President General, Chief Tony Ezeoyili, the Anglican Priest, Rev. Bethram Udegbunam and the CSO, Amaka Uchennadiukwu.