Ekwunife Attends 22nd Ofala Festival of Obi of Onitsha, Describes Him As Major Stakeholder In Governance of Nigeria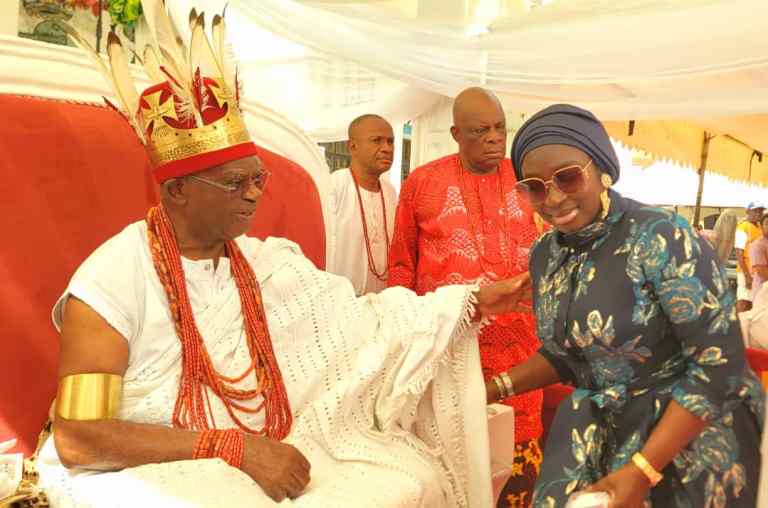 The Director General (DG) South East Governors Forum (SEGF) Senator Uche Ekwunife, on Sunday attended the 22nd Ofala festival of Obi of Onitsha, Igwe Nnaemeka Achebe, which also doubled as his reign on the throne of Ezechima.
Senator Ekwunife described the monarch as a major stakeholder in the governance of Nigeria.
According to her, "we came to associate and align ourselves with the Onitsha traditional institution. Igwe Alfred Achebe is a well known traditional ruler in this country.
"It is not just about Onitsha and Anambra State. The popularity of the Obi of Onitsha transcends beyond regional and national limitations.
"He has done well in terms of personal capacity, he has equally done well in terms of playing the role of a major stakeholder in the governance of Nigeria.
"Igwe Achebe has also done well as a firm custodian of culture and tradition of Onitsha people, therefore we have come to associate with him, his throne, his subjects, the entire Onitsha people and Ndi Anambra in general.
Senator Ekwunife expressed satisfaction with the monarch's ability to carry his people along despite challenges surrounding community leadership.
She prayed that the royal father would have the strength and divine support to continue superintending over the affairs of this great town Onitsha Ado N'Iduu and celebrate the legendary Ofala festival in good health, year after year.
Former member representing Onitsha North I State constituency in Anambra State House of Assembly, Hon. Chugbo Enwezor, while welcoming Uche Ekwunife and her entourage described the Senator as one of the finest politicians he has ever come across, considering her antecedents and outstanding achievements in the political trajectory of Nigeria.
Iyom was accompanied to the Ofala festival by Tobe Okigbo, Chief Emeka Okafor (Ide Nnobi), among others.