NHIA DG Assures Nigerians of Improved Service Delivery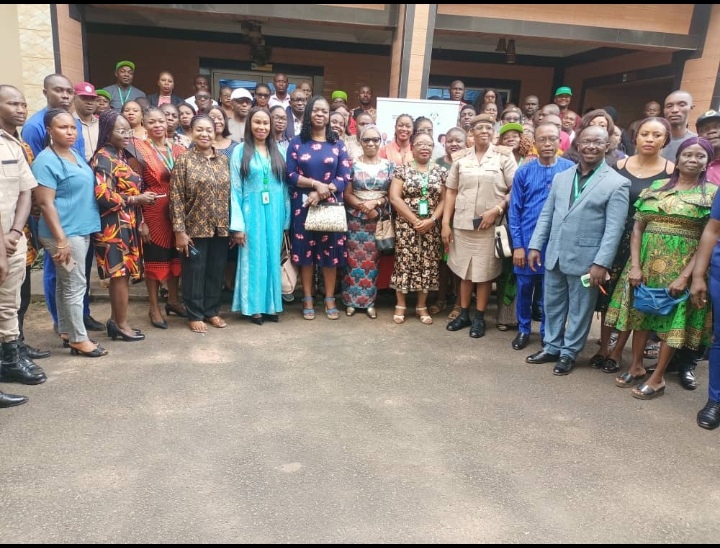 The Director-General of National Health Insurance Authority (NHIA), Prof. Mohammed Sambo, has assured Nigerians of improved service delivery in line with its strategic mandate.
Sambo said with the new Act, the organisation was repositioned to serve Nigerian more effectively, efficiently and cost effective service delivery.
The director-general gave the assurance during a One Day Enrollee Forum for Desk Officers of MDAs in South-South Zone, held on Friday, in Enugu.
Sambo was represented by the Deputy Director FSD, Mrs. Misari Ibiam, who said the authority were also mandated to improve and harness private sector participation in the provision of health care services.
It would be recalled that on May 24th, 2022, it was officially gazetted by the Federal Government of Nigeria as the National Health Insurance Authority(NHIA) on the 19th of May, 2022.
Its aim is to facilitate health coverage for all Nigerian residents by overseeing the promotion, regulation, integration of health insurance schemes and other related matters in Nigeria.
According to Sambo, the law also permitted them to do such other things that will assist the authority in achieving Universal Health Coverage to all Nigerians.
He added that the law made NHIA mandatory for all Nigerians as well as the provision of Vulnerable group fund for vulnerable Nigerians.
"Based on provisions of the NHIA act 2022, all employees both public and private sector and other Nigerians as well as foreigners legally living in Nigeria are required to obtain health insurance," he said.
He further explained that NHIA Flagship Programme, Group, Individual and Family Social Health Insurance Programme (GIFSHIP) ensures no one is left behind especially Nigerians who are not in formal sector.
Explaining the enrollee's rights and responsibilities, Sambo said, they had right to chose any service provider, register into scheme and access to quality healthcare services.
While urging them to choose accredited hospitals close to them for effective and prompt services, the director-general said, they were expected to pay only 10 per cent co-payment on drugs given to them and not for total services given to them.
"Many enrollees are ignorant of this and are being short-changed but 'I advised you to contact our offices and report erring hospitals when you experience such" he advised.
Speaking on the topic "Welfare Packages" for the enrollees, Sambo said the benefit package were very comprehensive and the authority renders preventive, promotive, curative and rehabilitative services.
Earlier in a welcome address, the South-East Zonal Coordinator, NHIA, Dr Eke Jonathan, represented by the Deputy Director, South-East Zone, Mrs Ochor Ahunna, said they invited desk officers of various MDAs to sensitise on the new reforms by the authority.
He said, You are the contact between your various organisations and NHIA, hence, the need to engage you on some of our reforms and operational guidelines.
"So there is need for you to pay attention to the lectures in order for you to know the reforms going on in the system," he said.
He added that the NHIA had engaged various stakeholders in l sensitisation programmes across the States in the Zone to educate people on the mandatory health insurance for all Nigerians.
More than 100 MDAs from South-East attended the workshop.