Labour Set To Shut Down Imo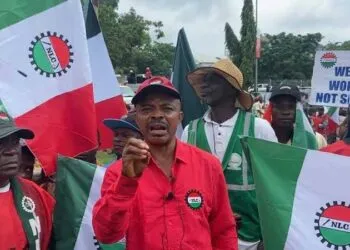 A strategy meeting of the Central Working Committee, CWC, of the Nigeria Labour Congress, NLC, presided over by Congress President, Comrade Joe Ajaero was held on Tuesday evening in Owerri with all the affiliate unions in attendance.
At the meeting, it was resolved that the protest/strike action would take place unfailingly as planned on Wednesday, November 1 and that the action would be total across all the sectors. It was further resolved that "Imo State (will) be shut down; air, land and sea."
The CWC resolved that Owerri airport will remain open till noon on Wednesday before it is shut down; while unions should embark on heightened mobilisation.
Earlier at the vandalised secretariat of the State Council of NLC, union leaders took turns to lambast the government for its alleged "insincerity, duplicity and perfidy."
The union leaders also took a swipe at the government for owing workers and pensioners over 42 months arrears; declaring thousands of workers/pensioners as ghost workers/pensioners as well as not properly implementing the national minimum wage.
Labour further frowned at the state government's alleged use of the courts to stifle a lawful protest; attempting to break the ranks of the unions in the State.
The labour leaders also condemned the policy of the state government that undermines the NLC in the state by allegedly foisting on the state council a leadership not constituted by the provisions of of the Congress constitution.
Besides, the CWC lamented the continuous interference in the affairs of the state council; hiring of thugs to vandalise the Congress state secretariat; and observing breach of agreements the government voluntarily entered into with Congress as far back as 2021, among others.
They leaders concluded by saying, "Imo is now charged for a major industrial action.