Group Canvasses Adherence To Stipulations of Criminal Justice Law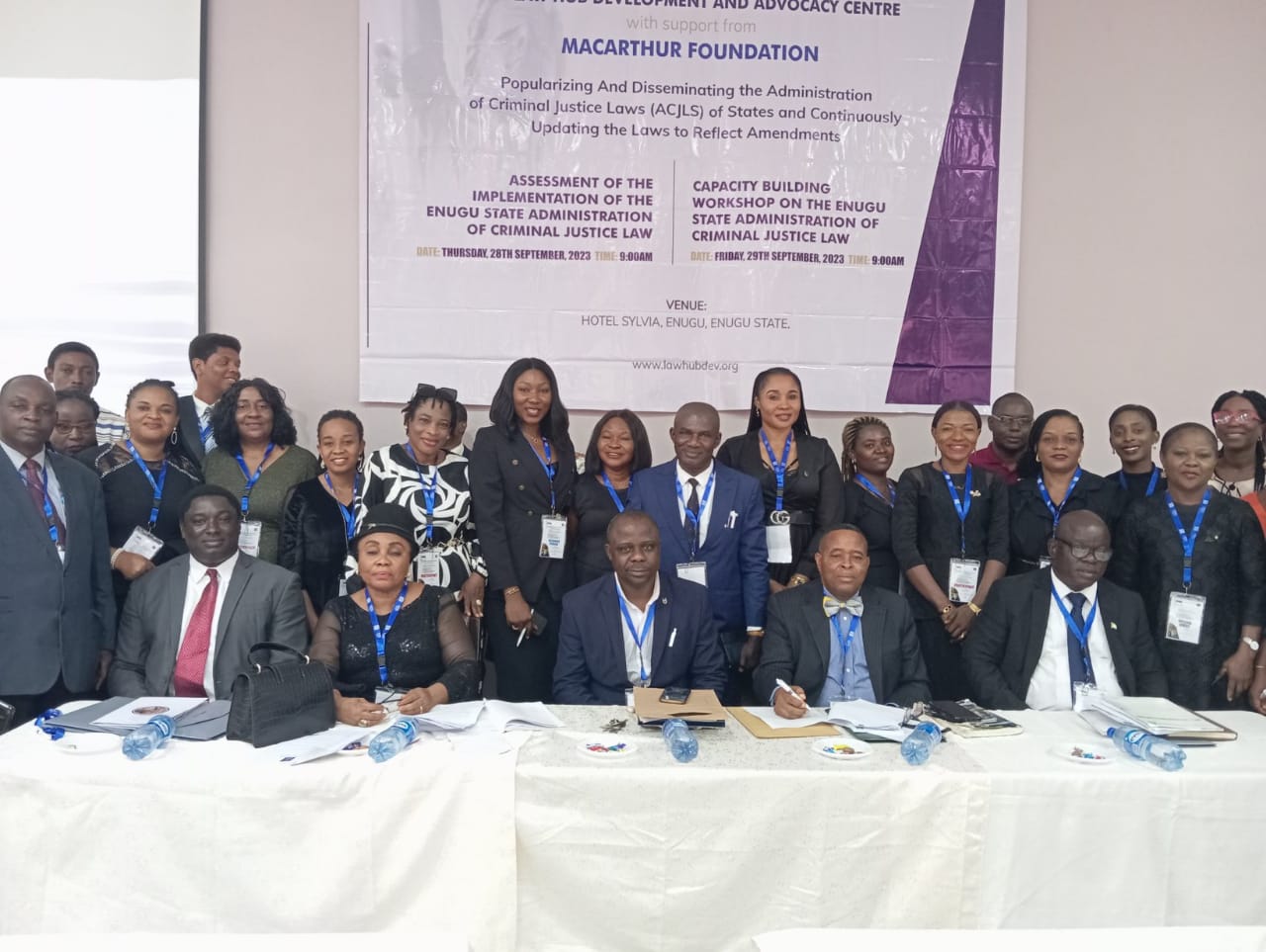 The Executive Director, Law Hub Development and Advocacy Centre,(LHDAC) Mr Osita Chukwuma, has attributed the unnecessary delays in prosecution of criminal matters to the failure of legal practitioners, law enforcement agencies and other stakeholders to strictly adhere to the stipulations of Criminal Justice Law.
Chukwuma stated this at a two-day capacity training for stakeholders in the criminal justice system, such as lawyers, magistrates, prosecutors and judges held in Enugu.
According to Chukwuma, unless practitioners are resolved to abide by the stipulations of such laws, issues such as large number of people on Awaiting Trial list, difficulty in accessing Justice and vital information needed to prosecute judicial matters to their logical conclusion will continue to feature in the administration of criminal justice in Enugu state and Nigeria in general.
He noted that the workshop which had taken place in some states of the federation was to assess implementation of all criminal justice reforms by individual states.
He regretted that governments in Nigeria over the years had relegated the development of the nation's criminal justice system to the background leading to  the current state of insecurity, corruption, prison congestion and so on.
Chukwuma called on Enugu state to do all that is necessary to ensure full implementation of the practice direction made pursuant to Administration of Criminal Justice Law as it would create the awareness needed for the law.
In her paper, an Enugu State High Court Judge, Justice Linda Okibe, who spoke on the role of the judiciary as regards the successes and the challenges in the implementation of Enugu state Administration of Criminal Justice Law, noted that the measures adopted by the law to shorten justice delivery include alternatives to sentences, electronic recording of confessional statements.
Justice Okibe advocated establishment of Witness Support Units to ensure that expenses incurred by witnesses in criminal proceeding are adequately compensated.
Also, a top official of the State Ministry of Justice, Mrs Nnenna Nwomeh, who listed some of the successes recorded in the implementation of the State Administration of Criminal Justice Law to include non-permission Holding Charges and non-entertainment of frivolous objections by judges until the main matter is decided.
Mrs Nomeh identified funding, lack of Central Criminal Record Registry at the State Police Command, which makes it difficult to access vital information such as criminal convictions as some of the major challenges confronting Administration of Criminal Justice Law in the state.
An Assistant Commissioner of Police and former Officer in Charge of Legal at the Enugu State Police Command Criminal Investigation Department, Mr. Paschal Nwachuchukwu, however, said there are Central Criminal Record Registry in the Force Headquarters and all state commands and stressed the need for proper equipping of the facility to achieve the aim of its establishment.
The officer in charge of Legal at the state Criminal Investigation Department, Enugu State Police Command, Mr. Justice Attah, said the Investigating Police Officers, who are expected to appear in court to give evidence, sometimes from far distances during trials, incur some expenses and most times settle such expenditure using their meager salaries, stressing the need for the refund of such spending.
He, however, warned that any case of undue demands by the IPOs should be reported for necessary disciplinary action.
The Chairman of the Enugu Bar Association, Mr CNN Nwagbara emphasisied the need for governments to invest in the Administration of Criminal Justice Law as funding was highly needed to ensuring free flow of justice delivery.
Mr. Nwagbara advocated regular organization of such workshops to enable stakeholders to properly internalize the objectives of Administration of Criminal Justice Law.
It is important to observe that criminal court trials in Nigeria is fraught with unnecessary clogs that unduly delay and frustrate smooth administration of criminal justice, despite the existence of laws that expunge these issues in  criminal justice delivery .
The consequence of this include the ever increasing number of people on awaiting trial list in prisons across the nation and the prolonged period litigants and those involved in legal proceedings have to wait be obtaining judgment.
And this is why workshop like this is essential to build the capacity of stakeholders to be able to follow up cases in such a speedy manner in courts to curtail delays and obtain judgment in record time as well as deal with criminal matters swiftly.