CAN President Visits Ndukuba, Seeks More Support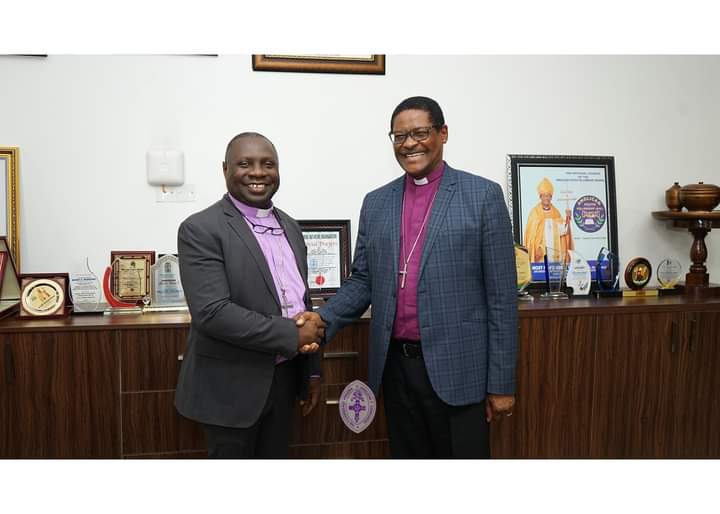 The President, Christian Association of Nigeria (CAN) Archbishop Daniel Okoh, has commended the Church of Nigeria (CoN) Anglican Communion for being a strong pillar of support to the association over the years.
A statement by the Church of Nigeria (CoN) Communication Officer, Korede Akintunde, said that the CAN president gave the commendation when he led senior officials of CAN on a courtesy visit to the Primate of the Church, Most Reverend Henry Ndukuba, at the his office, St Matthias House, Abuja on Tuesday.
The CAN president noted the impact of the Church of Nigeria in steering and helping to sustain the growth of Christianity in Nigeria over the years.
He recalled that the strong foundation of the association cannot be detailed without remembering the role of the Anglican Church under the CAN leadership of the former primate, Archbishop Peter Akinola.
Okoh also said that part of the essence of the visit was to intimate the Primate about the activities of CAN at the national level and to seek for continuation of the support of the Anglican Church in all its assignments.
Responding, the Primate who thanked the leadership of CAN for the visit, noted that the Anglican Church will always support and be part of the association promising the leadership of CAN of more commitments.
Archbishop Ndukuba who appreciated God for the growth of the association also prayed for more unity in the body of Christ and for God's light to shine more in the dark days of the country.
The CAN leadership also paid a visit to the studio of the Advent Cable Network Nigeria, the tele-evangelism arm of the Church of Nigeria, Anglican Communion where he pledged more collaboration with the station.
He commended the Church of Nigeria for setting up such a wonderful outfit for the propagation of the gospel as he appreciates the hard work of the management and staff of the station as well.
He noted that the Christian Association of Nigeria will have to work closer with ACNNTV as he has seen the impact of the satellite TV in all it does for the body of Christ and the propagation of the gospel.
Among the team that came with the CAN president are Apostle Prof. Samson Fatokun, CAN General Secretary, Rev Mrs Uzoaku Williams, AGS, Rev Nicodemus Ozumba, Director Education, Women and Youth, Commodore AO Ayuba rtd, Director National Issues and Social Welfare, Ven. Ireoba Princewill, Director Ecumenism and Interfaith Relations, Dr. Victor Ivoke, SA to the CAN President.
Present at the meeting with the Primate are Venerable Dr. Paul Dajur, CoN General Secretary, Mrs Kehinde Ajoni, CoN Registrar, The Rt. Rev'd Moses Tabwaye, Bishop of Gwagwalada Diocese and The Rt. Rev'd Duke Akamisoko, Bishop of Kubwa Diocese.