VIDEO: Nigerian Sets Guinness World's Record For Longest Handmade Wig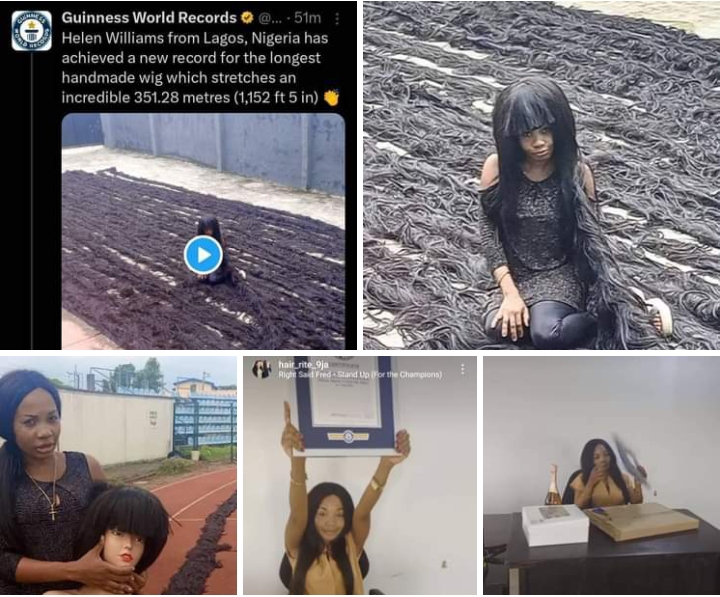 Nigerian wigmaker, Helen Williams, has set a new Guinness World Record by creating the world's longest handmade wig, measuring 351.28 meters (1,152 feet 5 inches).
GWR made this known in a statement shared on its X page on Tuesday.
Sharing a video, GWR wrote, "Helen Williams from Lagos, Nigeria has achieved a new record for the longest handmade wig which stretches an incredible 351.28 metres (1,152 ft 5 in) 👏"
On its website, GWR added, "The process involved constructing an underlay using wig-cap netting and black fabric attached to a bicycle helmet.
"To complete the hairpiece, Helen utilised 1,000 bundles of hair, along with 12 cans of hair spray, 35 tubes of hair glue, and 6,250 hair clips.
"Securing the materials for such a monumental task proved challenging. Helen, drawing on her eight years of experience as a professional wigmaker, expressed that her expertise played a crucial role in overcoming obstacles.
"Throughout her career, she has consistently produced between 50 to 300 wigs per week, trained hundreds of students, and created thousands of wigs.
"A significant hurdle in the process was finding a suitable location to lay out the wig in a straight line for accurate measurement.
"After exploring various venues, none of which were sufficient, Helen ultimately chose the Lagos – Abeokuta Expressway, a lengthy road connecting Lagos and Abeokuta.
"Now proudly housed in her office, the wig serves as a testament to Helen's dedication and creativity. She welcomes visitors to admire the extraordinary creation at any time."
Helen dedicated 11 days and expended over two million naira (£2,031; $2,493) in crafting the wig.
watch video below 👇
Credit: X | GWR