Uzodimma Speaks On Brutalisation of NLC President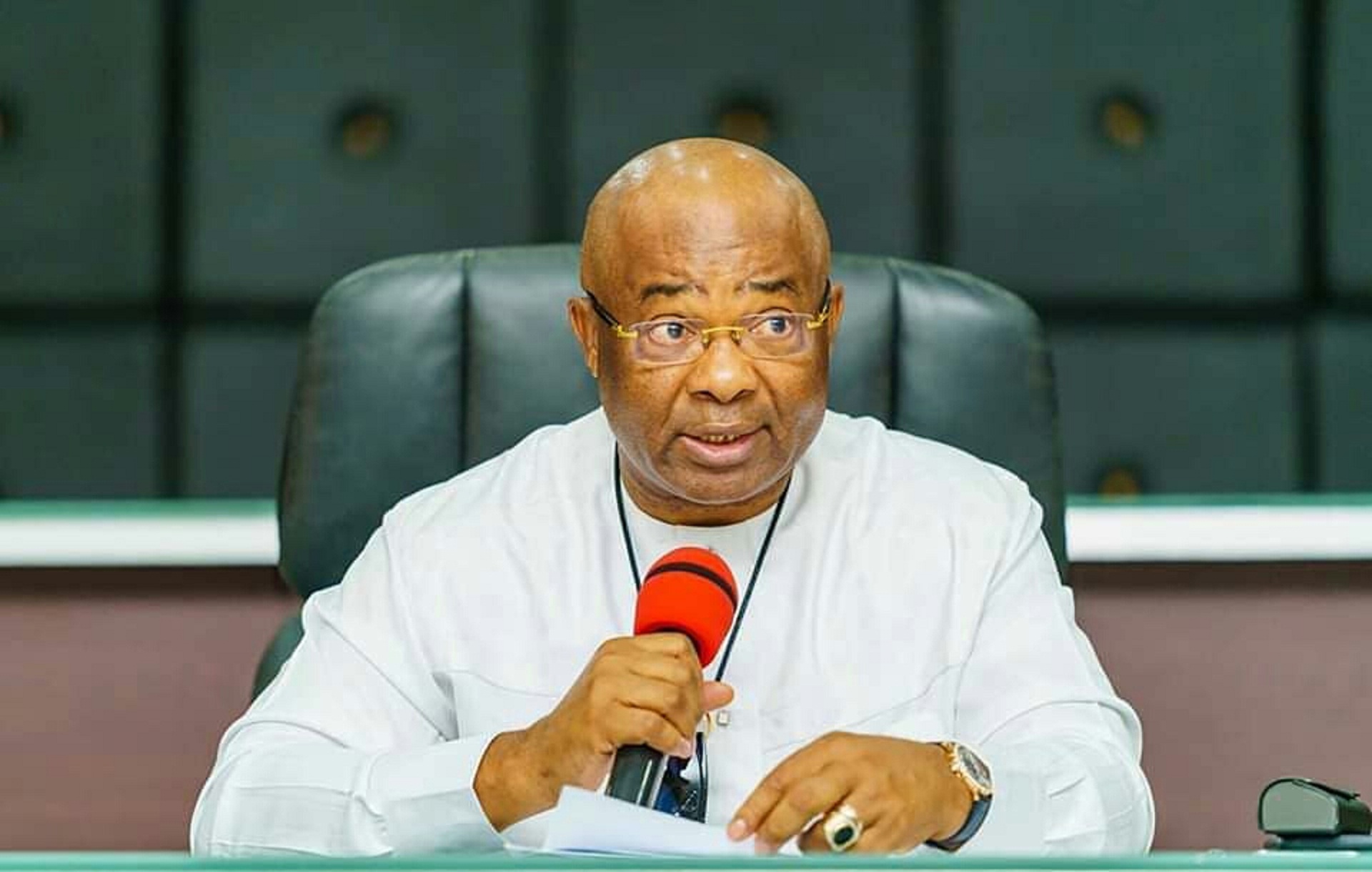 Hope Uzodimma, Governor of Imo State on Thursday accused the brutalized President of Nigeria Labour Congress, NLC, Comrade Joe Ajaero of politicising labour activities in the state.
Governor Uzodimma made the allegation while fielding questions from State House correspondents, after joining the candidates of the All Progressive Congress, APC, in Kogi, Usman Ododo and Bayelsa, Timipre Sylva to receive his gubernatorial flag from President Bola Tinubu, ahead of the November 11 gubernatorial elections.
Recall that thugs suspected to have been hired by the Imo State government and the State Police Command descended on the NLC President, who led other members of the Central Working Committee, CWC, to a protest in Imo State over the alleged unfriendly treatment of workers in the state.
But Governor Uzodimma accused the labour leader of not differentiating between labour issues and his interest in local politics of the state.
He debunked the allegation that he was owing salaries for 40 months, insisting that his administration is up-to-date on salary payments in the State.
He said he has been paying salaries regularly, since he assumed office, on January 15, 2020.
He challenged Imo civil servants being owed salary arrears in the state, to come out openly and say so.
On the allegations that he was owing 40 salary arrears, the Imo Governor said: "I think it is a very good opportunity for me to clear the air on the so-called allegations.
"When I came into Imo State as the governor on January 15th 2020, from 2020 January till date, there's no month we have not paid salary before the 30th. The situation is that before this time, I thought that the trade union was a democratic entity that allowed the opinion of people.
"I don't pay federal civil servants, I only pay Imo State civil servants and I challenged any Imo State civil servants to come out and say that between 2020 January 15th till date, he has not received salary in any of the months.
"What has happened in this ugly incident is that the national president of Nigeria Labour Congress is from Imo State and has not been able to demarcate the difference between being a national leader of an organisation and an interested party in local politics. But God will manage the situation."
Reminded that the workers were accusing him of reneging on the January 2021 agreement aside from the backlog of salaries and this might impact his re-election, Uzodimma said: "Well, I still repeat, there's no worker in Imo State…recall I came in January 2020 and by March, I started paying the minimum wage of N30,000 that had been lying there, that previous leadership couldn't pay. By December 2020 I paid the 13th month, the first time in the history of Imp State civil service and I have maintained continuously this 13th month payment as an incentive.
"I automated the payment system. Salaries are now received in an automated manner in Imo State. I brought innovations, I reformed the civil service. No wonder in the civil service the entire Labour Congress of Imo State chapter endorsed me and I am the only candidate they are supporting in the election. The Nigerian Union of Pensioners endorsed me, from 2007 to 2020, no civil servants in Imo State received gratuity. It is only my government that has now floated bonds to pay outstanding gratuities to civil servants.
"So, I understand the sensitivity of this event but I want you people to be very careful because there's an attempt to mix up partisan politics or an attempt to blackmail my government. But I can tell you that my people are already aware and that was why the Nigerian Labour Congress Imo State chapter, addressed a World Press Conference, that what their national leadership is saying is not correct. And that they are not coming to do any strikes or protests. In the process, they decided to resolve them to put in a caretaker.
"Of course, I am the chief security officer and I have the responsibility to intervene. I encouraged the national leadership not to devolve the management team that their tenure have not expired and that was what they did.
"I don't interfere in Labour matters but I have convinced my workers in Imo State to believe in me and is that trust that the opposition parties are trying to fight. But I can assure you that the Imo people already have taken their decision. 11th November is by the corner…"
Uzodimma added that having campaigned vigorously, APC is the party to beat in the three states of Imo, Kogi and Bayelsa.
"We are here and we have received are flags, I am trying to run back to Imo States to continue with campaigns and so are the candidates for Bayelsa and Kogi states."