Umahi Congratulates Mbah, Urges Opposition To Stop Distraction In Enugu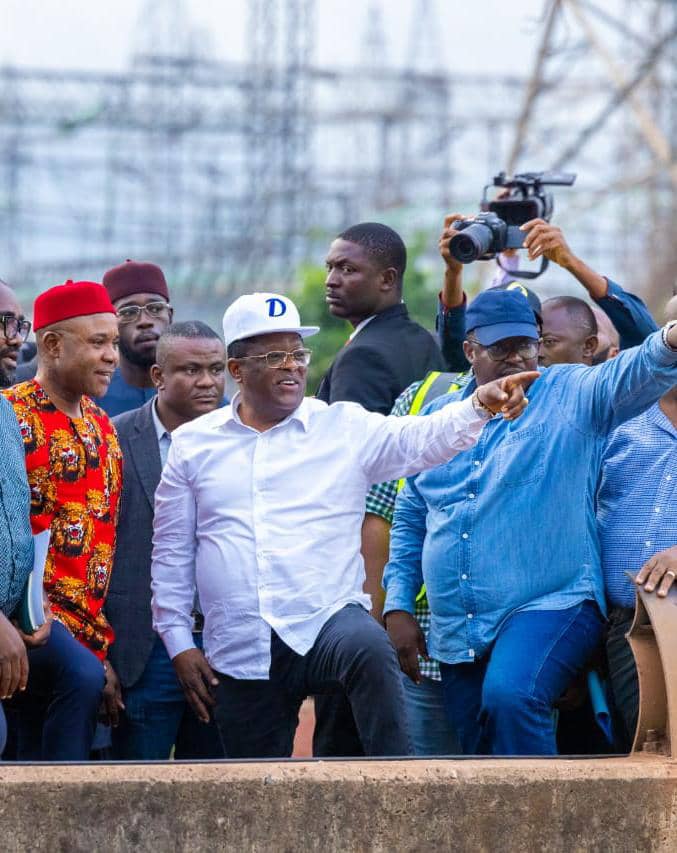 The Minister of Works, Chief Dave Umahi, has congratulated Gov. Peter Mbah on his victory at the Enugu State Governorship Election Petition Tribunal, while calling on opposition parties to stop distracting the governor.
Umahi, who is a member of the All Progressives Congress (APC), said it was not about the party, but about the quality of the individual Enugu State people chosen to lead them.
The minister, who said this when he inspected the collapsed bridge at the Enugu end of the Enugu -Port Harcourt Expressway, advised the opposition in the state to stop wasting their time contesting Mbah's divine and people's mandate.
He also said that Mbah's initiative to commence the reconstruction and dualisation of the Enugu-Abakaliki Federal Road up to the Ebonyi State Boundary was another display of people-driven leadership by a private sector person in governance.
According to him, I am happy that you came from the private sector. There is a very serious high hope by the steps you have rolled out.
He said: "They are in tandem with the President's steps and I pledge to support him very seriously and I also pledge to support you. There must be a change. We must reset the country.
"I want to publicly say, while congratulating you on the tribunal victory, that whoever is taking you to court must stop wasting their time, as you are clearly the people's choice and for good reasons.
"So, we will continue to support and pray for you, and I urge whoever is distracting you that they should understand the steps of God and know that you are divine and we are very proud of you."
Umahi noted that when a man wants to engage in public affairs, you should find out about his background.
"I know Gov. Mbah as a very successful private person and he is going to bring it to bear in this governance of Enugu State
"I also believe that what he is bringing to the table will rob off positively and be the pride of Enugu State, the entire South East and of course, the East Central State", the minister said.
He equally commended Mbah for ending sit-at-home in Enugu State, describing it a major step forward for the Igbo nation.
"Let me also thank you for being able to courageously stop sit-at-home in Enugu State.
"It is a major thing you have done for the Igbo people. It is a major thing you have done for the country", he added.