Ohanaeze Loses Another Great Man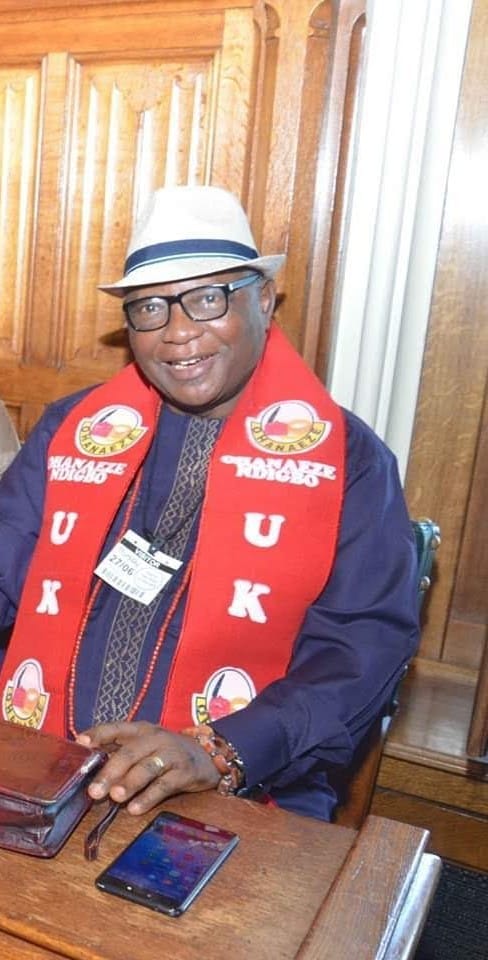 The apex Igbo socio-cultural organisation, Ohanaeze Ndigbo Worldwide, has expressed shock over the death of one-time Deputy President General of the group, Dr Sylvanus Olisanye Ebigwei.
Ohanaeze, in a statement by its National Publicity Secretary, Dr. Alex Ogbonnia, on Saturday, described the deceased as a 'humanist, erudite scholar, and bridge-builder'.
The Ohanaeze Ndigbo Worldwide has received with a rude shock the passing of yet another Igbo Titan, a humanist, erudite scholar, bridge builder, the summary of virtues, a dentist of global renown, community leader, publisher, former President General of Ohanaeze Ndigbo Worldwide and the Iyase of Okpanam, Dr. Sylvanus Olisanye Ebigwei, DDP, FMCGDP, PhD, MON.
Dr. Ebigwei served as the President of Aka Ikenga Lagos, an Igbo Think Tank  and later as the Vice President General (VPG) under Chief Nnia Nwodo as the President General of Ohanaeze Ndigbo Worldwide. Throughout his tenure as the VPG, Chief Ebigwei's wise counsel, moral authority, audacity of intellect, dispositional humility and nobility radiance were irresistible and disarming; and at the NEC meetings, Nwodo would cast a look at Ebigwei to solicit his validation at any critical juncture.
Furthermore, Dr. Ebigwei decried the inanity of double standards, identity crises and ethnic ambivalence that have pervaded the Igbo of the South South extraction of Nigeria. On page 218 of his book: The History of Okpanam People and Culture, Ebigwei stated that the "Delta Ñorth, known as Anioma people are basically Ndi Igbo". He informed that the word, Anioma is a product of Igbo consciousness; and that the  across-the-Niger Igbo held a meeting and adopted the word, Anioma. He explained that Anioma is an acronym derived from the first alphabets of the administrative divisions that comprise the Delta North; namely, "A" for Aniocha, "N" for Ndokwa, "I" for Ika and "O" for Oshimili; and that the prefix MA was added by Chief Dennis Osadebe, the former Premier of the Midwest of Nigeria, to form the word Anioma, meaning the "Beautiful Land".
Ebigwei lamented that the likes of Dennis Osadebay, Chief Orewa of Ika, Amadi Emina of Ebu, Col Joe Achuzia, Chief Isa, Chief Dafe, Ambassador Raph Uwechue, Chief Ochonogor, Obi Nosike Ikpo of Ibusa, etc were firm and unequivocal about their Igboness; and would turn in their graves over the recent developments, where a split personality with Igbo name, language and culture would prefer to deny his identity for a genealogical rootlessness, porridge mendacity and  chameleon mentality.
Ebigwei had reminisced with a deep emotional substantiation, the formidable Igbo solidarity that enabled Chief Dennis Osadebey to clinch the position of the Premier of the multi-ethnic Midwest Region in the First Republic and many other feats. Ebigwei regretted that it was "after the civil war in 1970 that many persons from Anioma started to distance themselves from their original ethnic identity….for political survival".
Ebigwei was an exemplary Anioma who detested wobbling personalities and remained steadfast to his roots until Friday, November 3, 2023 when he departed to meet his Ancestors.
The President General of Ohanaeze Ndigbo Worldwide,  Chief Engr. Dr. Emmanuel Iwuanyanwu, MFR; OFR; CFR; FNICE; FNSE; KSC (Ahaejiagamba) is devastated on hearing the sad news. The Igbo Leader expressed dismay over the close chain of catastrophe; Chief Joel Kroham, Prof George Obiozor, Prof. Joe Irukwu, Prof. Ben Nwabueze, Elder Dr. UK Kalu and now Dr  S. O. Ebigwei. Ahaejiagamba remarked with sadness, that a big vacuum is created in Anioma with the loss of  Ebigwei.
Born January 8, 1943, Sylvanus Olisanye Ebigwei attended St Patrick's College Asaba and left as the best graduating HSC student in 1966. He proceeded to the College of Medicine, University of Lagos where he studied dentistry; Post Graduate Medical College of Nigeria, for a specialist programme; University of Florida, Gainsville, among others. He served as the Chairman, Governing Council, Nnamdi Azikiwe University University Teaching Hospital, Nnewi; Chairman,  College of Dental Technology & Therapy, Enugu; Chairman, Post Graduate Medical College of Nigeria; Chairman, African Chess Federation; amongst others.
Chief Iwuanyanwu sends his condolences to the wife, children and the immediate family, the traditional ruler and the Okpamam Community and the good people of Anioma over this irreparable loss. He takes solace in the fact that Dr. Ebigwei was accomplished in several fields and passed on a fulfilled man.
While we urge the Anioma to   accept with serenity the inevitable reality for all mortals, we request the Almighty to grant the soul of Dr. S O Ebigwei an eternal rest in his bosom.