Igbo-Etiti LG Honours With Outstanding Performance, As Nwodo Receives Presidential Recognition On ICT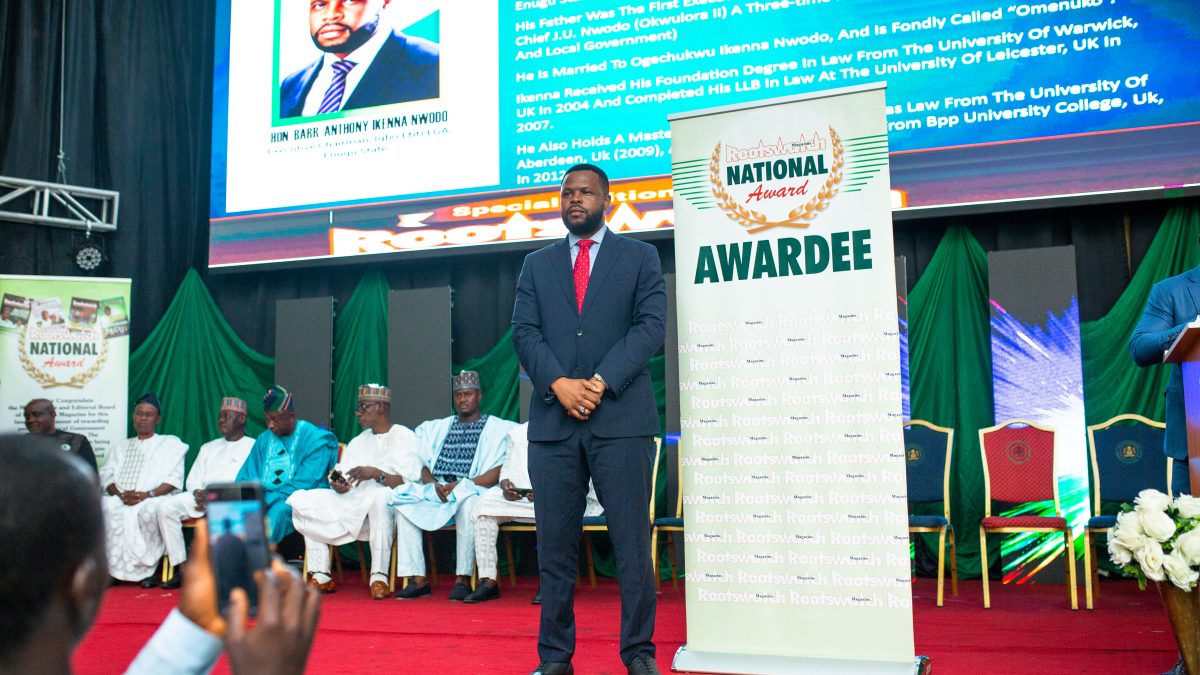 In recognition of his efforts in advancing information and communication technology (ICT) and driving digital revolution in rural areas, the Chairman of Igbo-Etiti local government area, Barr Ikenna Nwodo, has been honoured with an outstanding and prestigious award by the presidency.
The presidency had, through one of its agencies, the Bureau of Public Service Reforms (BPSR), honoured public servants and institutions that had distinguished themselves in digital reforms across the nation, stressing that the step would encourage them and inspire others to perform optimally in digital technology in the discharge of their duties.
Among awardees at the event, which took place over the weekend at the International Conference Centre, Abuja, was Barr Nwodo who said the recognition would spur his team to do more particularly in expanding the ongoing digital infrastructure to communities in the council area.
While receiving the award, Barr Nwodo commended the presidency for paying attention to efficiency in service delivery with technology in the selection process, saying Igbo-Etiti local government would continue to partner with development, educational and other agencies interested in ICT to equip the youths and the students in the area with skills that would not only afford them employment opportunities, but would also assist them to be self-reliant.
"I am delighted for this presidential recognition coming from the Bureau of Public Service Reforms at a time like this. I and my team were not surprised that we were selected after the rigorous exercise because we had been deliberate and aggressive about the digitalization policy in our local government area.
"Our target is to make Igbo-Etiti attractive to investors because we are ready for business. Igbo-Etiti is the right place to invest because we have tried to complement the efforts of the state government in derisking investment flow. This is why one can comfortably say that those barriers scaring investors had been dismantled by us to give way for ease of doing business.
"If you look at the driving force behind Governor Peter Mbah's administration, you will understand that one of them is the ease of doing business through e-governance and digitalization. The state government is deliberate about turning the state around from a public service economy to private-driven economy. So, for those of us at the local government level, we are expected to key into the laudable policy that would see our state becoming an industrialized economy.
"I think we all have a duty to assist the state government to achieve the $30 billion dollar economy it had proposed. That cannot be achieved without us thinking ahead and tailoring our ideas in line with the system that Governor Mbah is laying down. This is why I have been aggressive about penetrating our local government area with technology, especially on the area of innovation and ICT. Our local government, as we speak, has a functional and robust website where information about the potentials can easily be accessed anywhere in the world.
"I am reiterating the fact that Igbo-Etiti is ready for business. We have arable soil for commercial agriculture and agro-industries. We are calling on partners and investors to think of the returns they can make here with their investment. We're training our youths in ICT and other technical skills so that they can integrate into the unprecedented industrialize revolution the Mbah's administration is currently driving," the Chairman noted.
At the event which had this year's team as "Advancing Public Service Reforms through Digital Transformation", Barr Nwodo was awarded with a leadership and exemplary award for advancing ICT and digital technology at the grassroots level.