Group Awards Scholarship To 22 Female Students In Enugu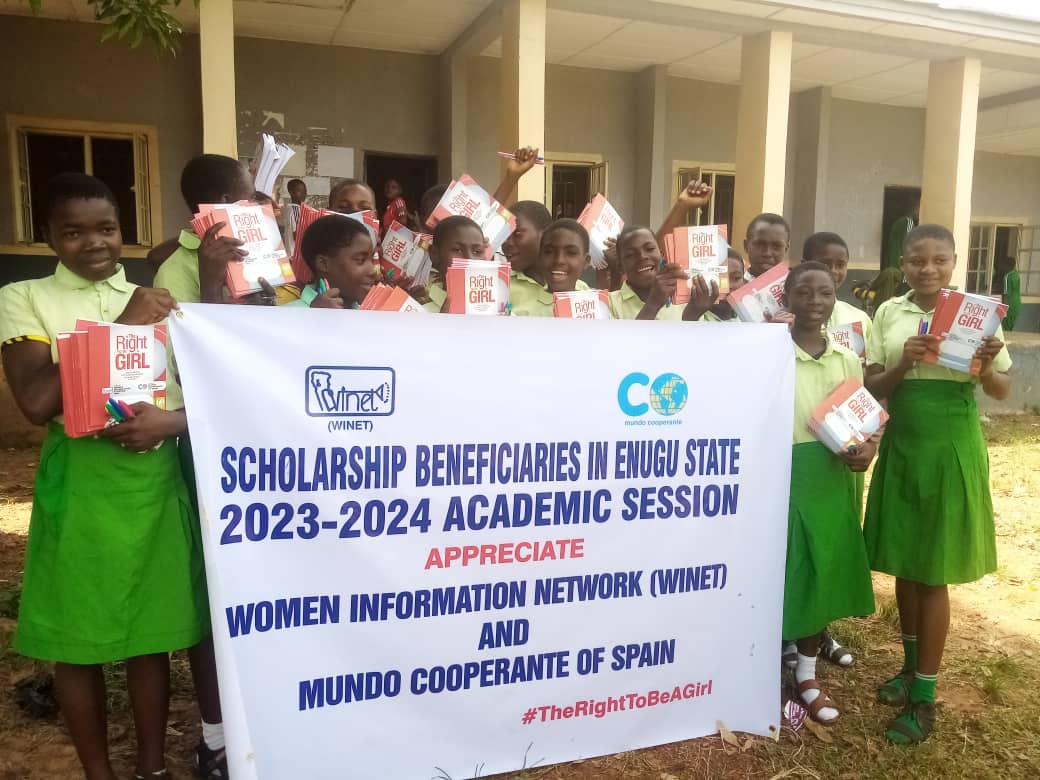 Women Information Network, (WINET), has awarded another scholarship to about 22 female students of Community Secondary school (CSS) Iva-valley Enugu.
According to the executive Director WINET, Mrs Miriam Menkiti, the scholarship covers 2023-2024 academic session.
In an event organized to present the beneficiaries with writing materials and other items to aid their academic performances, Mrs Menkiti represented by the Monitoring, Evaluation and Learning Officer, WINET, Mrs Chinelo Dim, noted that the scholarship entails payment of school fees for the 2023-2024 academic year for the selected 22 female students in the school.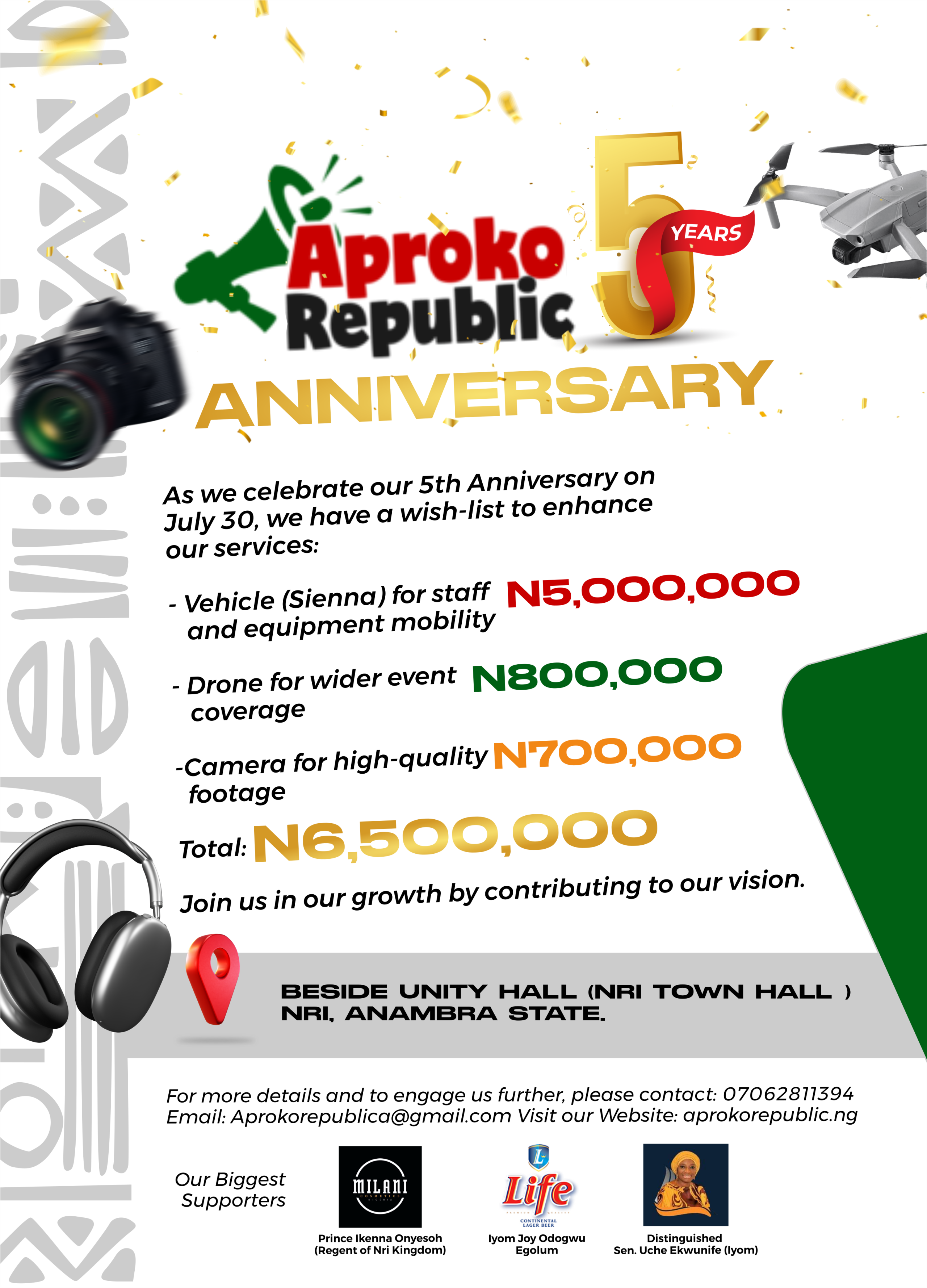 She said "we will pay their school fees, their examination fees and the State Based Management Committee (SBMC) levy for them. We are here to present to the students notebooks, mathematical sets and pens. I am glad to inform you that we have already paid all the fees for the girls for this first term".
She continued "we appeal to the benefiting female students to make the best use of the opportunity offered by WINET and our partner MUNDO COOPERANTE of Spain to study hard. WINET is a member of the International Coalition of organizations called Girls Not Brides.
I appeal to the principal, Vice principal and teachers to cooperate with our Monitoring, Evaluation and Learning officer, Mrs Chinelo Dim who will be visiting the school monthly to check the progress of the students. we do not want these girls to be given out at tender age in marriage because they are not yet matured enough to be brides. We would also insist parents of the selected beneficiaries sign commitment letters. These commitment letters when signed means that no parent whose child is benefiting from this scholarship will withdraw his or her child from this school for what so ever reason especially during the period of our scholarship."
Earlier in an address, the Vice principal academics, CSS Iva-Valley, Mrs Christian Ngozi Aniakor called on the students to remain assiduous in their studies so as to justify the scholarship award.
She emphasized "I will continue to monitor your academic performances, remember, this scholarship is to help your parents so that when you grow, you can contribute your quota to the development of the society. Read your books, do your homework and participate in all academic activities in the school to remain good ambassadors of CSS Iva-Valley".
Speaking to the parents she said "please when these children come home, give them some break to do their home works and do not bore them with house chores so they can put in their best in their academics."
In a vote of thanks, a beneficiary and student of JSS3C, Miss Favour Anih thanked WINET for coming to their aid. She prayed God to sustain their sponsor and her supporter who despite the economic situation in the country, decided to award the scholarship to them.
According to her, "I thank you all for the school bag you gave us last year, I also want to thank you for the books and pen you gave us. From the bag you people brought all these, you will not lack and you bag will not be dried in Jesus name amen."
In an interview with some parents of the beneficiaries, they prayed God to reward WINET for taking care of their children.
One of them and widow of six children, Mrs Uchechukwu Agu said "in fact, when my child told me that she is to benefit from this scholarship, I said God I thank you for this. I want to thank you people because you have really helped me. Since my husband died, things have been difficult, I wanted to withdraw my child from school but now God has removed tears from my eyes. Thank you all for doing this good thing for my family."
Others including Mrs Ijeoma Okeh who narrated her ordeal before the award of the scholarship said "my husband had problem on one leg and since then, I am the one taking care of my children and it has not been easy at all, while Mr Chigozie Njeze, Mrs Ijeoma Ugwuta and Ndidiamaka Usulor could not hold their feelings even as tears of joy roll out their chicks.
It could be recalled that the beneficiaries are part of the 128 indigent students benefiting from the scholarship during the 2023-2024 academic session, while other benefiting students are 106 in community Secondary school Akpasha who earlier benefited in the 2022-2023 edition of the scholarship scheme.
There is no doubt that WINET and MUNDO COOPORANTE are collaborating in this joint action in defiance of the rights of girls so as to End Girl Child and Forced Marriages in Enugu state.
Author: Amaka Uchennadiukwu
For Advert placement, music promotion, event coverage, social media & event management, or to share breaking news story with us, contact: +2347062811394 or +2347059964320.