Google Honours Yekini With A Doodle @60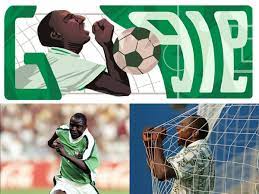 As Nigeria's late legendary footballer marks his 60th posthumous birthday on Monday, Google has honoured the former Super Eagles striker with a Doodle.
Born in Kaduna on October 23, 1963, Yekini moved by his passion for football, worked as a welder and mechanic before joining his first football club, 'UNTL FC' in Kaduna, in 1981, he went on to play for Shooting Stars of Ibadan, netting 45 goals in 53 games.
The lethal striker also played club football in Spain, Tanzania, Saudi Arabia, Tunisia, Greece, Portugal, and Switzerland. In Portugal, he won the Silver Ball in the 1993-94 season as the league's top-scoring player while playing for Vitória Setúbal.
A key figure for Nigeria's national team, the 'Super Eagles,' Yekini played a crucial role in their qualification for the 1994 World Cup. His iconic celebration, clutching the net with both arms and shedding tears of joy after scoring Nigeria's first goal, remains etched in football history and that is what Google used as its Doodle.