Troops Clear IPOB, ESN Hideouts In Imo, Recover Rocket Propeller, Others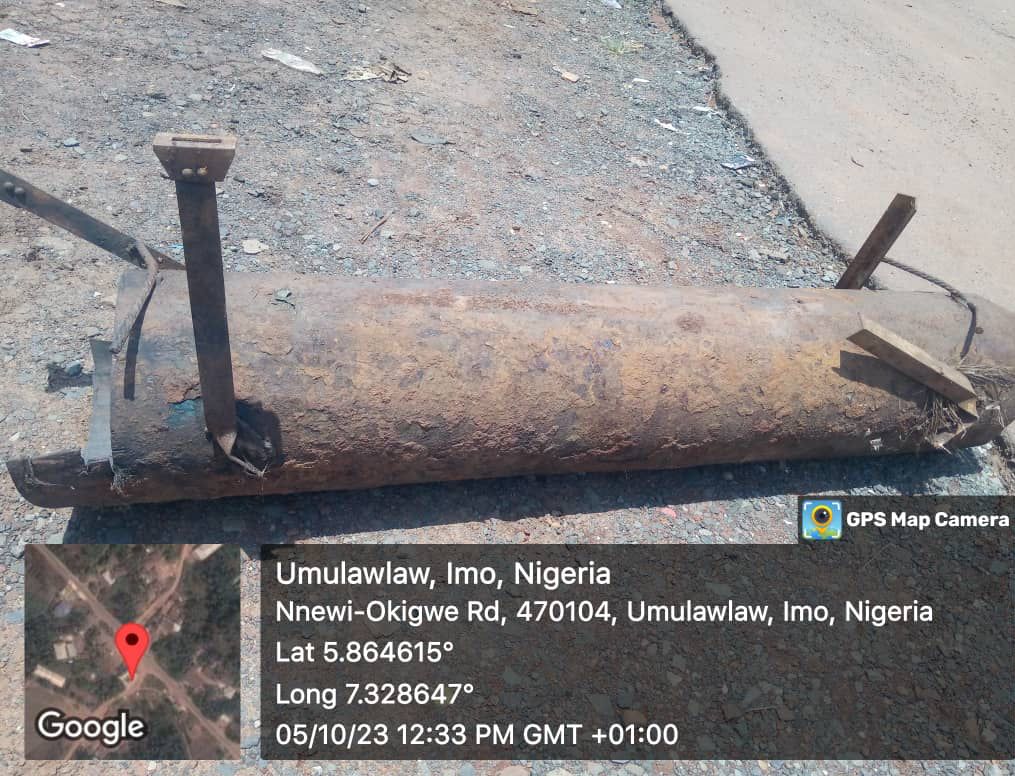 Troops of Joint Task Force South-East Operation, code-named 'Operation UDO KA II', has conducted clearance operations in the Indigenous People of Biafra (IPOB) and its Eastern Security Network (ESN) affiliates hideouts in two council areas in Imo.
The clearance operations, which took place simultaneously on Thursday, Oct. 5, 2023, was conducted along Ihioma-Ihittenansa communities in Orsu Local Government Area and Okigwe-Umulolo communities in Okigwe Local Government Area of Imo State respectively.
This is contained in a statement issued on Friday in Enugu by Lt.-Col. Jonah Unuakhalu, acting Deputy Director, Army Public Relations, 82 Division of Nigerian Army, for the Joint Task Force Operation UDO KA II.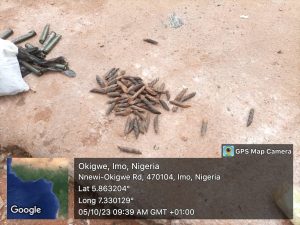 Unuakhalu said that the clearance operations were aimed at identifying and destroying possible camps of the fleeing IPOB/ESN terrorists, who are killing and maiming as well as extorting innocent citizens of the South-East in the name of agitation.
According to him, during the simultaneous clearance operations, at Umulolo, one of the troops' vehicles was hit by an Improvised Explosive Device (IED), however, no causality was recorded.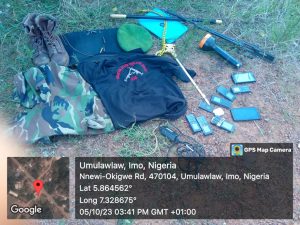 He said: "Troops also came in contact with the terrorists who fled into the nearby bushes with gunshot wounds due to superior fire power.
"Two suspects were arrested and items recovered at Umulolo included; two locally-made guns, ammunition, one PKT machine gun barrel, one big locally made Rocket Propelled Launcher (Ogbunigwe) and IED making materials.
"Others included, three CCTV cameras, two laptops and a charger, eight mobile phones, three boots, camouflage shorts, two motorcycles and a beret. Furthermore, three shrines used by the terrorists for fortification were destroyed."
The army spokesman said that in the clearance operations/fighting patrols along Road Ihioma -Ihittenansa in Orsu LGA; the troops also encountered IEDs, made close contact and engaged in gun duels with some IPOB/ESN terrorists around Eketutu Market.
"The terrorists fled into the adjourning forests of Lilu and Mother Valleys with gunshot wounds on motorcycles.
"Troops also recovered 2 X CCTV cameras carefully concealed at the highest point in the area and some IED making materials.
"Troops successfully cleared the terrorists from the Eketutu market," he said.
The army spokesman noted that Operation UDO KA II would continue combating ritual killings, cannibalism, kidnapping for ransom and extortion of hardworking and law-abiding citizens in the South-East.
"These terrorists, mostly the condemned criminals that escaped from Owerri Jail Breaks, are low lives that are being used by a criminal abroad to unleash mayhem on all of us.
"All Ndigbos (Igbo people) should join hands to ensure these terrorists do not determine how we live our lives.
"Law abiding and good citizens of the South-East are enjoined to provide timely, credible and reliable information to end the insecurity in the region (Alaigbo)," he added.