Soludo Renames Anambra Airport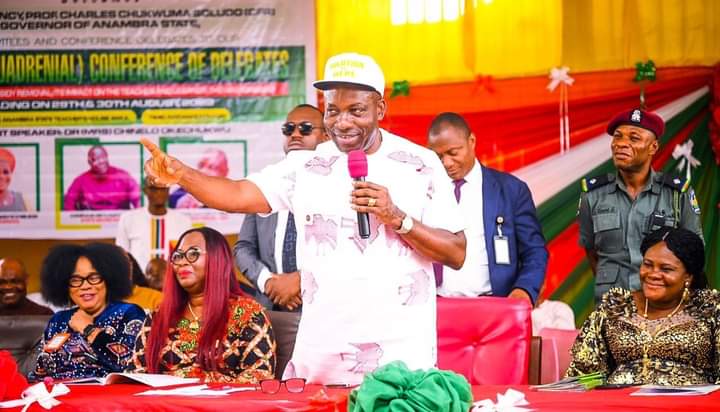 The Anambra State Government has renamed the State Airport to Chinụa Achebe International Airport, Umueri
This was one of the major highpoints of Governor Chukwuma Charles Soludo's speech during the celebration of Nigeria's 63rd Independence Day anniversary to rename the Airport after the great literary icon, Chinụa Achebe.
Governor Soludo said that the declaration was to immortalize Chinụa Achebe for making indelible mark on the history of human civilization.
Novelist Chinụa Achebe, a native of Ogidi in Idemili North Local Government Area of the state, died on March 21, 2013, at age 82, in Boston, Massachusetts.
In Governor Soludo's words, "Achebe, a Nigerian novelist, poet, and critic, gave the African literature an identity and a voice and he rightly reconstructed and refined the identify of the people."
The governor emphasized that Achebe was not just an Anambra hero nor a Nigerian hero, but an African and global hero and yet largely unsung at home.
According to the Governor, his administration will be intentional about searching and celebrating its largely unsung heroes as a way of motivating Anambra children and youths.
"Unfortunately, some people wrongly think of legacies in terms of brick and mortar. Legacy is about impact on human life and human civilisation.
"Achebe was not a president or governor or military. He did not build bridges or roads or airports but he will outlive most presidents, governors and ministers in our minds.
"Achebe rejected Nigeria's national honours twice in protest against what he perceived as injustice to his home state Anambra. Today, Anambra will finally honour him.
"After wide consultations, there is a broad consensus that no one is more deserving to be named after the first airport in Anambra than Anambra's all-time greatest literary gift to the world, Chinua Achebe.
"Consequently, we will rename the Anambra International Cargo and Passenger Airport, Umueri, to Chinua Achebe International Airport, Umueri.
"Yes, it has to be an international airport, and we hope to work with the Federal Government to give full effect to its international status," the Governor revealed.
The Governor paid glowing tribute to the nation's founding fathers, saying that despite their imperfections were mostly nationalists who negotiated a competitive federalism as the structure to leapfrog the ladder of development.
Though the nation missed some opportunities in the past, the Governor expressed optimism that the future is replete with great potentials.
"Yes, Nigeria is currently battling to reset the buttons of development. Over the past few years, macroeconomic management was on its head with the enduring legacies of a technically insolvent Federal Government (FGN) and pressures on exchange rate and inflation.
"The chicken has come home to roost, and the current administration has the unenviable task of cleaning the Augean stable by taking us through the long delayed but inevitable disruptive re-set.
"The path to stability, growth and sustainability will be challenging and there are no quick fixes. All of us must fasten our seat belts, and collectively think and work Nigeria out of the current challenges. We have no other country but Nigeria, and we must make it to work for everyone", he added.
He highlighted a few of Anambra State government's deliberate efforts in all spheres of development, working with the five pillars of the Soludo Solution Manifesto including Security, law and Order; Infrastructure and Economic Transformation; Human Capital and Social Agenda; Governance and Value System; and An agenda for clean, green, planned and sustainable communities, markets and cities.
"We are firing from all cylinders in our haste to lay the foundations for a livable and prosperous homeland. In March 2024, we shall present our two-year comprehensive report card to Ndi Anambra".
The Governor pointed out that following the desired removal of petrol subsidy and exchange rate adjustments, as well as the consequential socio-economic hardship on the citizens, his administration rolled out what he described as the most ambitious response to the challenging times subject to the limits of the state resources.
"As a government founded on the true progressive agenda, we are determined to leave no one behind. In addition to the 10% salary increase for public servants since January 2023, we have started paying each of the 59,000 public servants and pensioners a non-taxable cash augmentation of N12,000 each (September to December 2023). In two weeks we will be distributing bags of rice to over 300,000 households.
"We have banned the collection of taxes/levies from hawkers, barrow and truck pushers, vulcanizers, okada riders, and all businesses with capital less than N100,000. We have also reduced by 20% levies paid by all transport vehicles. Pregnant women now receive free antenatal and delivery services in all government hospitals.
"We have also began the ambitious programme of a true free primary to JSS3 education— free of all fees, levies and financial contributions of any type in all public schools. An additional 3,000 teachers are being recruited to add to the earlier recruitment of 5,000 teachers. About 5,000 youths trained under the one youth two skills scheme will soon be empowered with cash to commence their own businesses.
"So far, we have distributed 1,100,000 seedlings of palm and coconut to over 100,000 households and will distribute another one million next year. The list is long… Again, the goal is that we are all in this together and will swim out of the challenging times together".
The Governor was accompanied by the Deputy Governor, Dr. Onyekachukwu Ibezim to the event which also had the Speaker of the State House of Assembly, Rt. Hon. Somtochukwu Udeze, members of the state Executive Council, Service Commanders, Traditional Rulers, among others in attendance.