Soludo Celebrates Archbishop Okeke At 70, Pledges Support For His Prison Ministry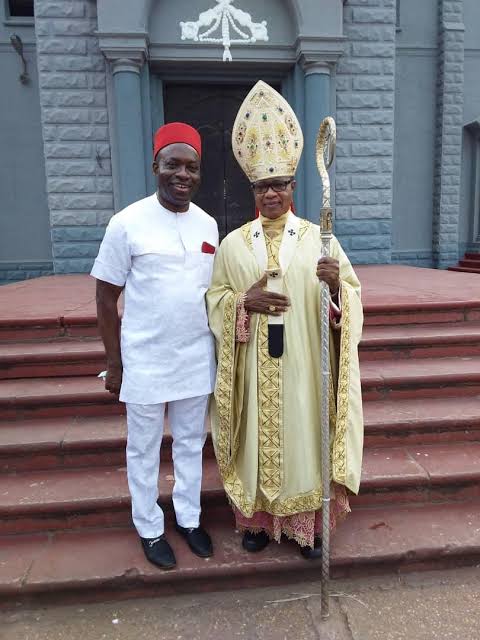 Governor Chukwuma Soludo of Anambra State, has pledged to support the prison ministry of the Archbishop of Onitsha, Most Rev. Valerian Maduka Okeke.
Soludo stated this after the birthday mass for the Archbishop.
The mass was celebrated at the Nigerian Correctional Service Medium Security Custodial Center Onitsha.
The Governor was accompanied by his wife, Mrs Nonye Soludo.
Governor Soludo also laid the foundation stone for the secondary school that will be built in the center and commissioned the skills acquisition center built and donated by the Archbishop of Onitsha, Most Rev. Valerian Maduka Okeke.
In his remarks, Soludo said he was impressed by the Archbishop's commitment to helping inmates at the correctional center. He said the Archbishop's work was a reminder that everyone deserves a second chance.
Soludo promised to pay the Nabteb exam fees for 30 inmates who are preparing to write the exams. He also promised to install solar panels and inverters to supply electricity to the center, which has a population of 1,125 inmates.
"I am here today to celebrate the Archbishop of Onitsha for his commitment to helping those who are often forgotten," Soludo said.
The Governor advised the inmates to take advantage of the skills acquisition program at the center so that they can be productive members of society when they are released.
"I urge you to take the skills acquisition program seriously," Soludo said. "When you are released from prison, you can use these skills to build a better life for yourself and your family."
In a homily, the celebrant, Archbishop of Onitsha, His Grace, Most Rev. Valerian Maduka Okeke, noted that gratitude to God is the greatest sacrifice to offer.
The Archbishop, who celebrated his birthday with inmates, has made many philanthropic gestures at the center, including rehabilitating a borehole that supplies water to all the cells, renovating the prison cells, and establishing a skill acquisition program where inmates can learn various skills.
The month-long birthday celebration of the Archbishop of Onitsha will also include visits to several hospitals in Onitsha, where he will pay the bills of patients who are unable to pay.
The Archbishop was awarded the Grand Patron of Inmates in Custody in Nigeria by the Controller General of Corrections, Nigerian Correctional Service, Haliru Nababa, represented by his Deputy, SN Nwakuche.
Former Governor, Peter Obi, Speaker House of Assembly, Somtochukwu Udeze, SSG, Solo Chukwulobelu, Chief of Staff, Ernest Ezeajughi, Victor Umeh, Tony Nwoye, Chris Ngige,
Others are, the National Chairman APGA, Sly Ezeokenwa, and the Papal Nuncio to Czech Republic, Archbishop Jude Thaddeus Okolo attended the mass.