NECO To Honour 15-Year-Old Chimamanda For Scoring 11As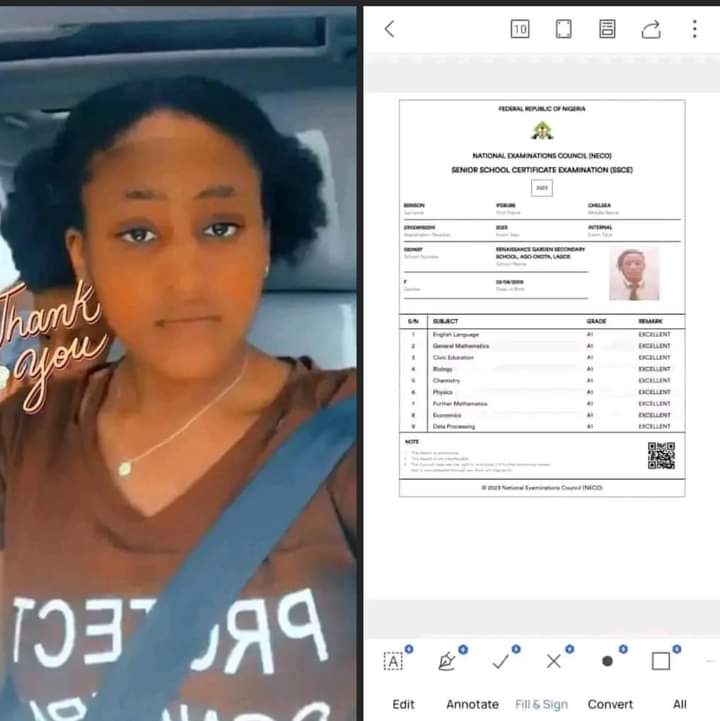 The National Examinations Council (NECO), has invited Onochie Chimamanda Frances, 15, of Igbinedion Education Centre for an award for emerging as the overall best female candidate national, 2020 Basic Education Certification Examination (BECE).
Chimamanda scored 11As in the 2022 BECE thus emerging the overall best in the 36 states of the federation including the Federal Capital Territory (FCT).
In the letter of the invitation, presented to her by the state coordinator of NECO, Dr. Moses Oladipupo, who represented NECO Registrar, Professor Ibrahim Dantani Wushishi, urged Chimamanda to accept their warm regard.
Wushishi appealed to the parents and the school to keep encouraging the student in order to surmount the challenges ahead, noting that she has a very bright academic future.
On her part, the deputy chairman/co-founder, Igbinedion Education Centre, Lady Cherry Igbinedion, said that she has been waiting earnestly since the inception of the school to see when it will achieve such feat.
She commended Chimamanda for making the school proud just as she also lauded her parents and her school teachers for giving her their best and making everyone proud.
Mrs. Igbinedion urged her fellow students to emulate her (Chimamanda) and be the best, adding that when she was in the school in those days, her parents always told her that she should always stick with those that are making the high marks in class.
For the overall best student, Chimamanda who hails from, Ndikelionwu in Orumba North Local Government Area in Anambra State, said she would to be a surgeon in the future.