NGOs Present Water Sector Award To Mbah, As 20,000-litre Water Project Is Inaugurated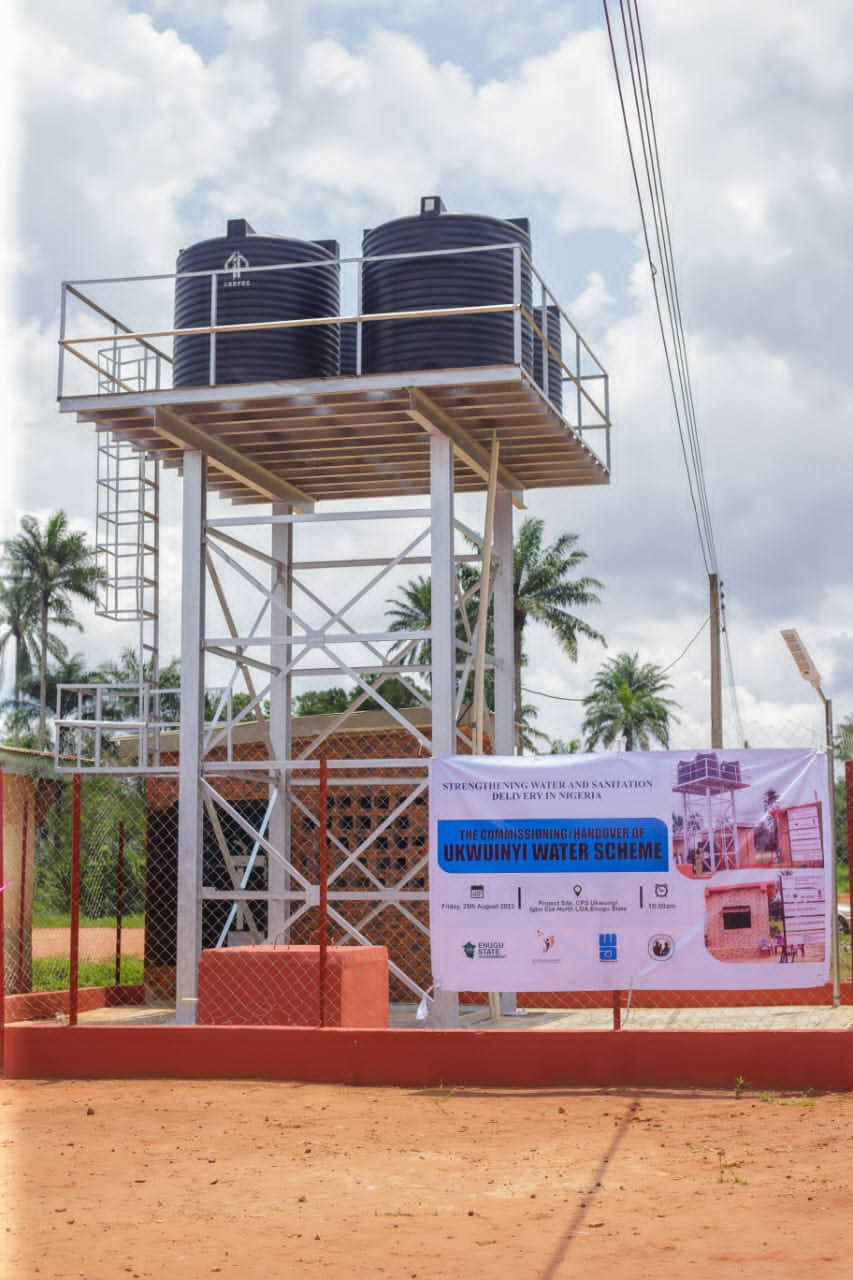 WaterAid Nigeria and South Saharan Social Development Organisation (SSDO) have presented "A Pillar of Water Sector Award" to Gov. Peter Mbah of Enugu State for his visionary focus on water provision.
Evelyn Mere, Country Director of WaterAid Nigeria, presented the award on behalf of the NGOs during the inauguration of the 20,000-litre motorized borehole in Ukwuinyi community of Igbo-Eze North Local Government Area (LGA) of Enugu State on Saturday.
The new generator-powered water facility is part of intervention under the second-phase of the Strengthening Water and Sanitation Delivery in Nigeria Project, which is funded by The Church of Jesus Christ of Latter Day Saints Charity (LDSC).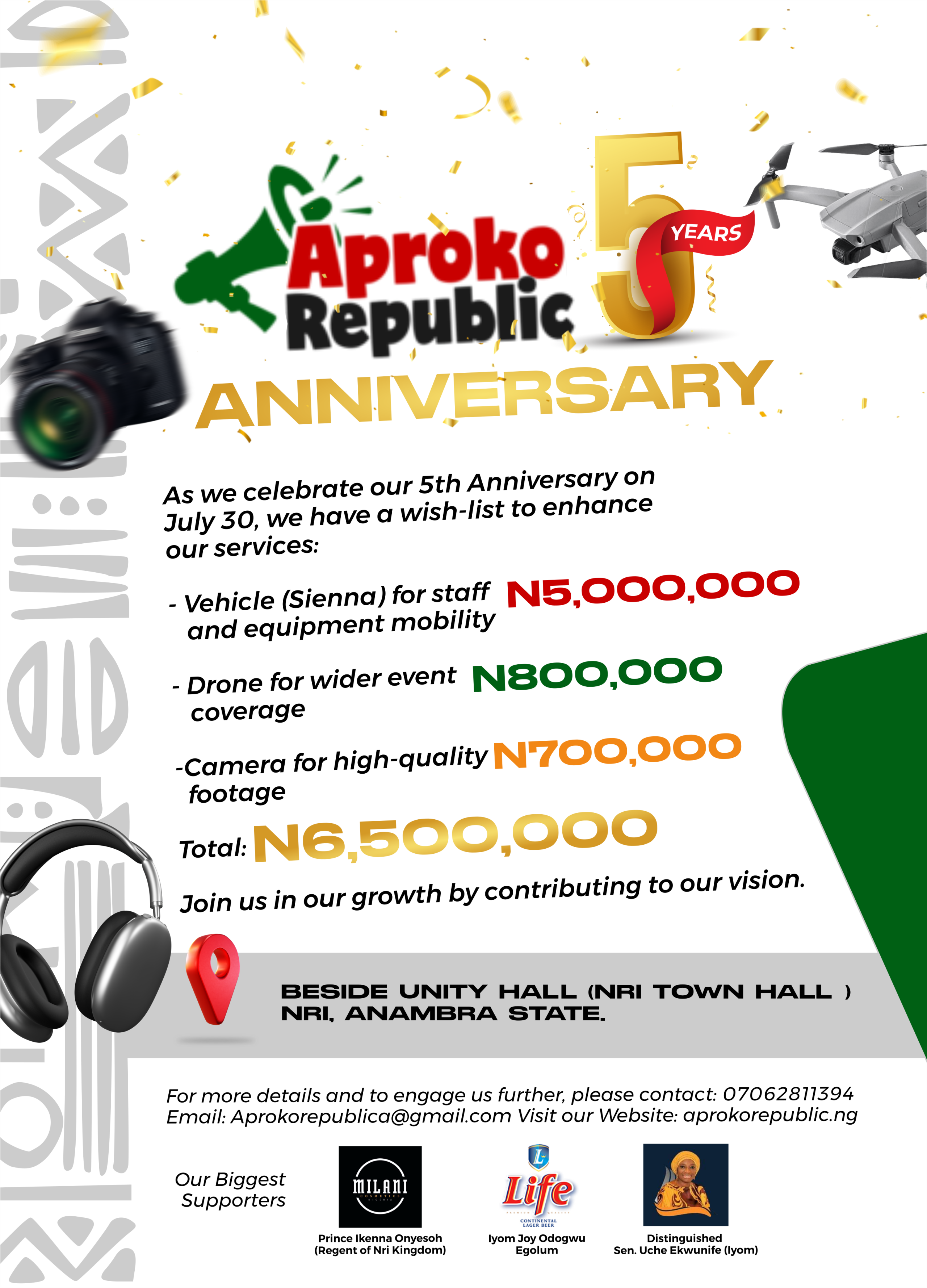 The project was carried out through LDSC implementing partners, which included SSDO, WaterAid Nigeria and Small-Town Wash Unit of Enugu State Ministry of Water Resources.
Mere, represented by the Team Lead of WaterAid Nigeria, Mr Solomon Akpanufot, said that the award was meant to strengthen Gov. Mbah on his administration resolve to provide water for the residents of the state within a short while in office.
She said: "We have seen the aggressiveness and avowed commitment as well as clear cut focus of Gov. Mbah to ensure that he redeems his campaign promise of providing water for Enugu people within 180 days in office.
"It is imperative we support the governor and his administration by all means of encouragement as well as in practical terms by building and handling over this daily 20,000-litre motorized borehole in Ukwuinyi community meant to serve over 2,000 residents.
"It is part of WaterAid and its partners stride to improve the Water, Sanitation and Hygiene (WASH) level of the people of the state especially in Igbo-Eze North council, which is our pilot LGA for WASH excellence and end to open defecation initiative in the state."
Mere said that it was exactly a year ago that stakeholders in WASH sector gathered at Umuogiri-Amufe in Igbo-Eze North council area to witness the commissioning of the second phase of WaterAid's water kiosk model in Enugu State.
According to her, we are encouraging the Igbo-Eze North council area to replicate what have been done by building water facilities to march the ones already provided as it will spur the donor-agencies and its partners to do more for the council area.
"The Strengthening Water and Sanitation Delivery in Nigeria Project, which commenced in May 2021, in Bauchi and Enugu States, will begin another phase till September 2024.
"Our target is to reach at least 40,000 people with clean water; 3,000 people with safely managed sanitation, and 16,000 people with hygiene promotion in both states," she added.
In a goodwill address, the Executive Director of SSDO, Dr Stanley Ilechukwu, commended LDSC for funding the project, adding that it would have great impact on the lives of the residents of the community.
"This facility will help end open defecation and improving WASH initiatives in Ukwuinyi community as the borehole is meant to reticulated within two locations in the community," Ilechukwu said.
Speaking, Mrs Chinonye Nnabuchi, the General Manager of Small-Town Water Supply and Sanitation Agency, urged the community to make judicious use of the facility to promote WASH initiative.
Nnabuchi also urged the community to keep their water covered always and practice all they had learnt from WASH initiative sensitization to ensure optimal health of all.
In a welcome address, the Executive Chairman of Igbo-Eze council area, Chief Ejike Itodo, lauded the LDSC, SSDO and WaterAid for the project, adding that the council was working in tandem with the state government in provision of water and sanitation facilities.
Itodo said that the council area had concluded plans to provide two mega boreholes in two communities in the council even as it is going ahead to pass the council's By Law Against Open Defecation in three weeks.
"The council have succeeded in building toilets in each primary and secondary school as well as markets; and provided water in some communities.
"We, as a council, have totally keyed into the WASH initiative and ending open defecation in the council area.
"We are grateful to the donor agencies and their partners for choosing the council as their pilot area to end open defecation and we are prepared to support the donor agencies achieve their people-oriented laudable programmes," he said.
Receiving the award and inaugurating the facility, Gov. Mbah said that the government was indeed grateful for the facility as well as how donor agencies and their partners are sensitising the people on best hygiene practices.
Mbah, who was represented by the Commissioner for Water Resources, Dr Felix Nnamani, said: "the state government is committed to nurture and strengthen partnership that yields laudable result for our people, just like this one.
"This administration remains committed in pursuing its vision of providing clean and potable water to every household in the state and what we are doing today points to that direction."
For Advert placement, music promotion, event coverage, social media & event management, or to share breaking news story with us, contact: +2347062811394 or +2347059964320.